For the Cinnamon Cup Coffee community this week, we have a new kind of REAL LIFE prompt! They gave us three options to choose from, and I am trying my best to see if this applies! And... I think it does! hehehe
But realize that I do not live right next to a bustling city - I live 90 minutes from the nearest grocery store! However, I DO have a coffee shop RIGHT in the heart of my little community! Because we live and work at a camp! And... I just happened to have the best little barista that I've actually given birth to! hehehehe
So come along with me and let me show you how THIS is the best cappucino I have ever had - because it is made with the BEST ingredient of all.
Not a specific bean, not specialty syrups - but... 💗LOVE!💗 hehehe
Alright - let's take the tour, shall we?
The name of our little coffee shop is the CREEKSIDE CAFE, and you're going to see why in just a few images!!! But first, let's have a proper welcome!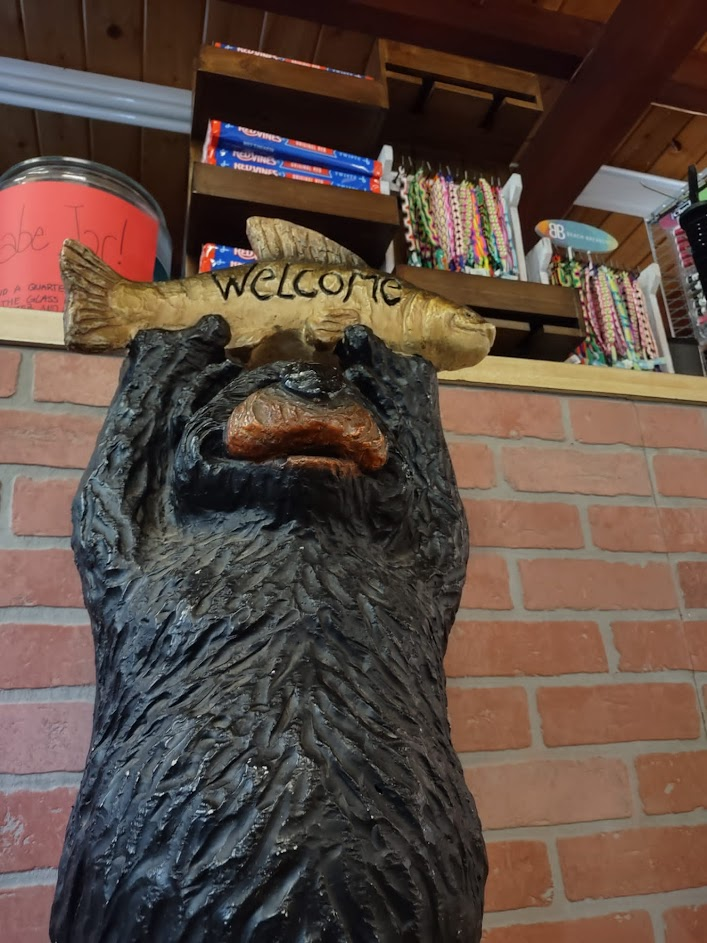 Isn't he just the cutest?!?! And yes, we DO have a lot of bears all over because - we DO have the real things! As a matter of fact, you can look through my blog and find the REAL BEARS that come to my house and eat our cat food. She was really quite the "pet"! But she became quite the nuisance. Let's just take a look at our little wooden bears though! hehe You can even see the one that was "COVID-COMPLIANT" with his little mask during 2021! hahahaha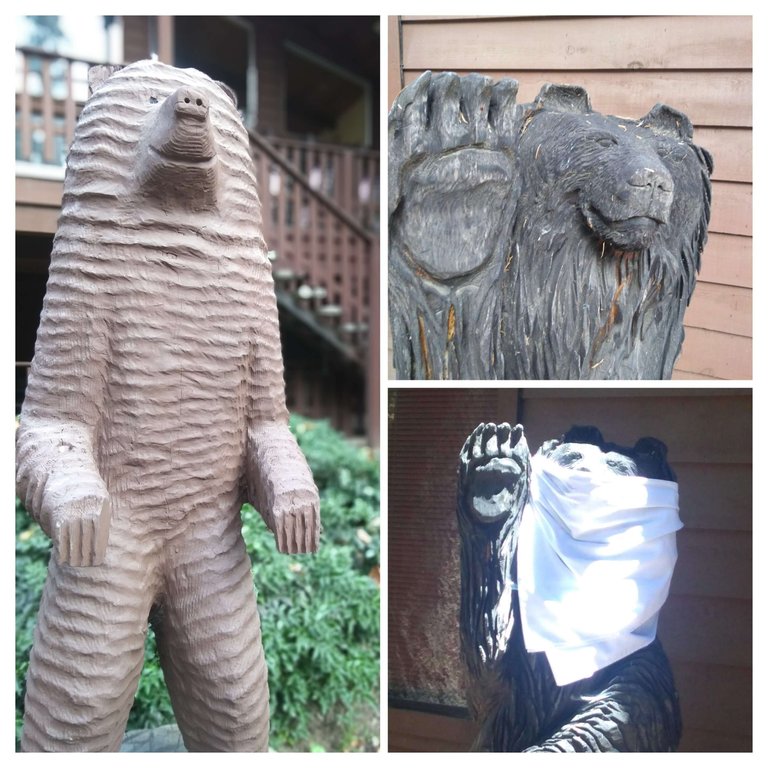 Next, take a look at why it's called CREEKSIDE CAFE!
Ahhh, the beautiful view that is right outside our little coffee shop! In the summer when the creek is filled and flowing - with flowers planted nearby, it is QUITE the lovely spot! Don't you think? Campers and guests and take canoes and paddleboats and head off into the distance to explore the very clear waters in the creek! It might look dark, but you can see clear straight to the bottom! Beautiful!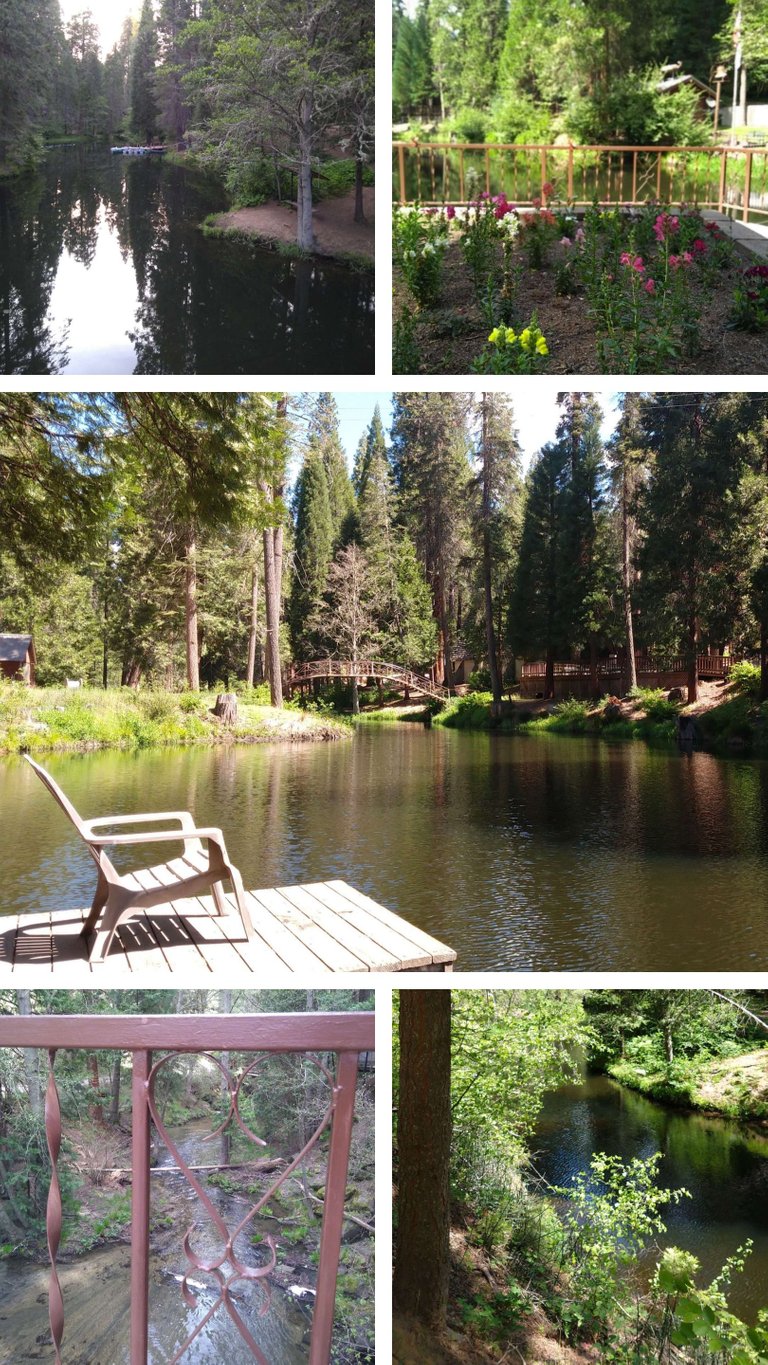 But if you think that it's only beautiful in the summer? Think again! When it snows, and even when the water is drained - you can find yourself completely immersed in the frosty nuances of this winter wonderland! In the picture below you can see how low the water is, and how there is a little snow island present! hehe Still beautiful though, yes? I am so blessed to live on this mountain - even though I do NOT like snow, I do love the beauty!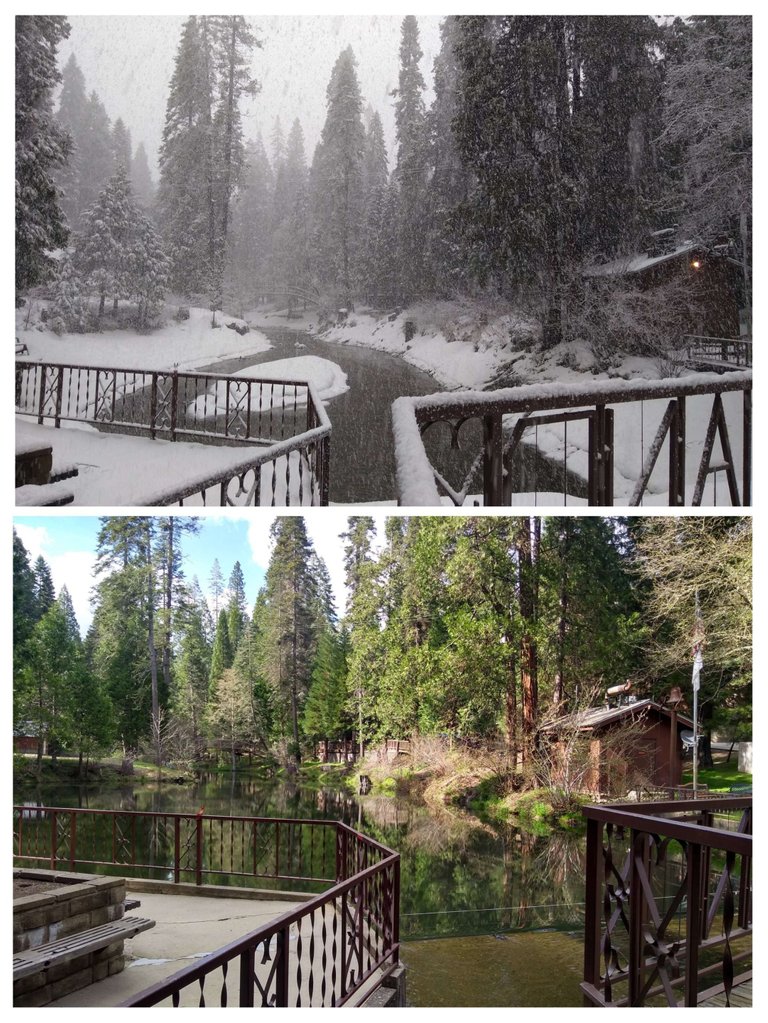 Now, it's time to come into our humble little coffee shop. It's closed right now, so let's just take a little peek and use our imaginations at what it looks like when 400 kids show up, all wanting hot cocoas and fancy coffee drinks! hehehe I promise you, the line is OUT THE DOOR and wrapping all around the corner! hahaha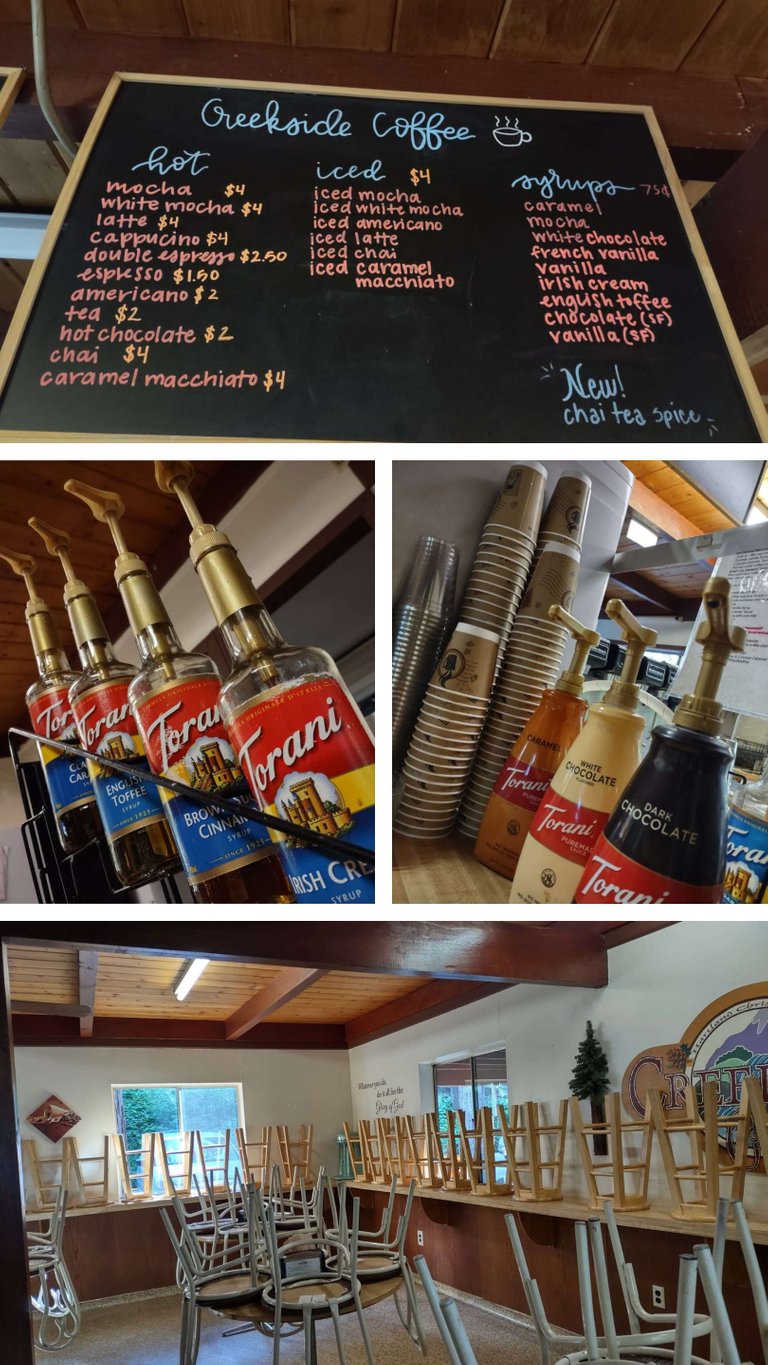 As you can see there... that lovely little cappucino costs $4 - but for staff? We get it at a discount!! hehehe Benefits of being part of the family here! And I'll just let you take a look at what my daughter can whip up for me! What do you think - does it have all the love in the world poured into it, making it the GREATEST cappucino that I could ever have in any cafe??? heheh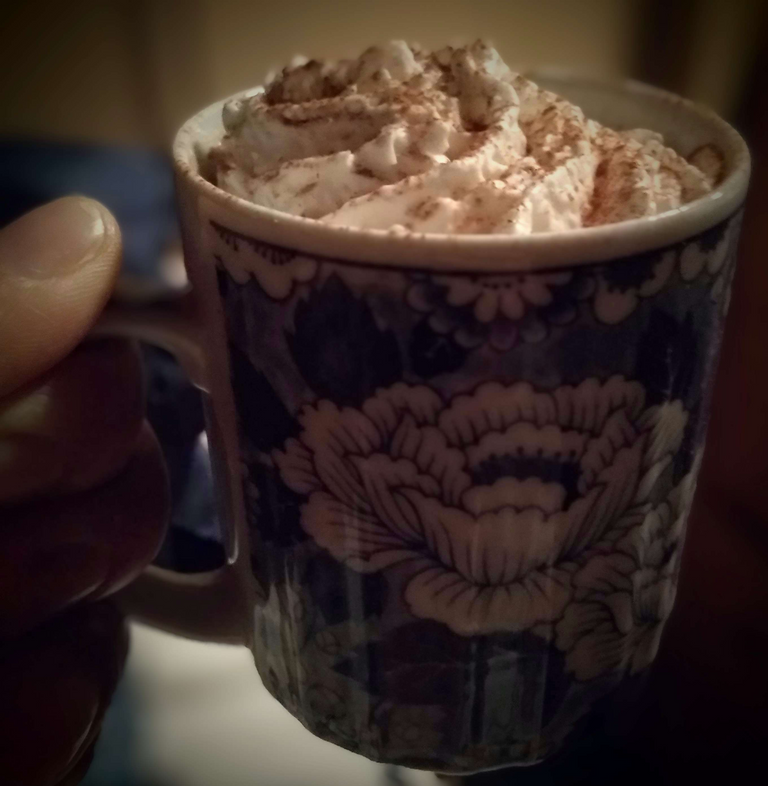 Having your very own barrista under your own roof surely does have its privileges! I hope you enjoyed my attempt to showcase our humble little coffee shop, and I hope that you will visit with me someday! I'll even take you for a little boat ride, if you're very good! hehehehe
This post was submitted to Cinnamon Cup Coffee Community but also - it's Sunday!!! and everyone knows that if you have something SUBLIME to share (like cappucino made with EXTRA LOVE) then, you share it to @c0ff33a's Sublime Sunday community too! hehehe
***** *****

banner created in love by @wesphilbin for the #speekpeece family
🙏Have you taken your 5 deeeep breaths today?🙏
It's healing, it's grounding, it's calming, it's time now
---
All images used in the post are mine, and taken with LOVE!