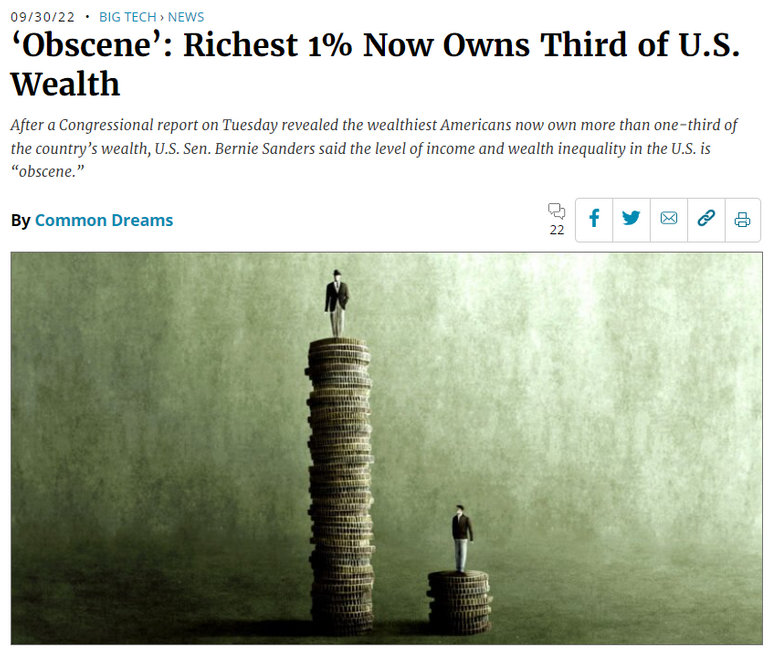 'Obscene': Richest 1% Now Owns Third of U.S. Wealth
I decided to comment on the above... I don't know why. Perhaps to shout a warning at a new audience that might not have heard it before?
Who knows...
Here is what I added as a comment:
Be careful... This is the narrative that has been used to emotionally enslave entire countries in the past. It is going global now. Certainly them having such wealth can be seen as "unfair" yet if you run with that you'll run right into the trap. They will try to sell you on Marxism, Communism, Socialism, etc. Yet those all require a central planner. Who exactly do you think has been positioning to be those central planners? It certainly won't be you or I. The historical end result of this particular approach has ALWAYS been the same and it has been tried many times, so don't fall for the "we'll get it right this time" narrative. How are you going to get it right this time? What are you personally doing to insure that? Are you going to be one of the central planners? This idea leads to the ultimate monopoly on power. You will convert it to the 0.01% controlling all of the power and the rest of us will effectively be slaves. We will have what they allow us to have. We will get what the central planner planned for us to get.
A lot of things will break as well because they are not Gods or superhumans. They cannot possibly plan for the trillions of things that which we call the Market solves. We need a free market. We haven't had that. We've had a global hybrid of fascism and Marxism for awhile now. That has created these problems. Redefining words and propaganda are just one of their number one tools. Dumbing down people so they are lead by emotions helps make those techniques even more effective...
The 1% may have a third. Yet don't be blinded by that. That is what they want you to do. React with emotion and embrace this Marxist B.S. that always leads to a few living as kings and the rest as slaves.
I clicked submit and was greeted with something becoming quite familiar these days...

I've begun to react to that as "Well that was a complete waste of time. No one is going to see that one."
I wanted to share it here though I know pretty much everyone that reads this here likely already is very much aware of everything I said in that comment.
I could have framed it more in depth. I missed some points. Keep in mind it was a COMMENT section. It is a long enough comment many people won't read it anyway. I couldn't write a book there and address all the points you might personally see to pick at what I wrote.
You still are welcome to. Just be aware that because I didn't say EVERYTHING there is a chance I am aware. This is just what came out when I had my "This is a comment, don't write too much" nag dancing around in the back of my mind.
That nag is very bitter. It so often fails at it's reason for existence.