Uniting the Web3 Wave
Hey there, Hivers! I'm Troy Green, and I'm here to talk about revolutionizing the Hive ecosystem through active participation in several upcoming Web3 conferences. It's a journey we're all excited to embark upon.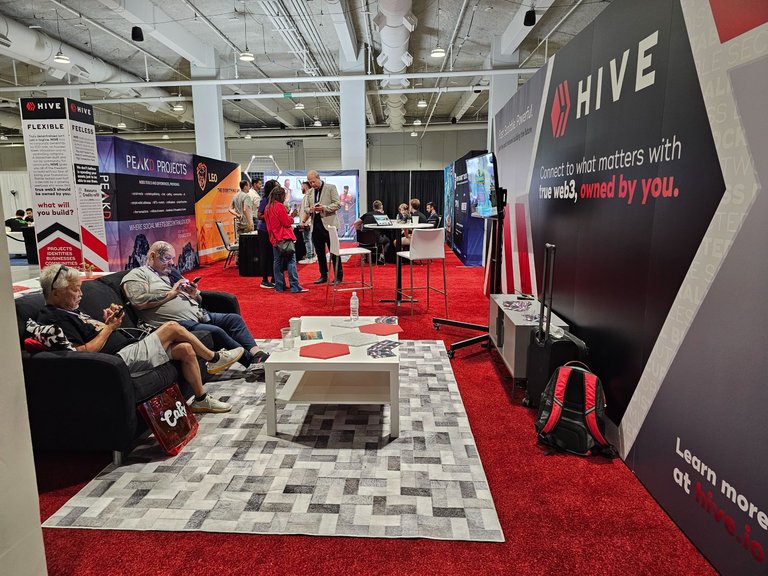 (celebrities on break while Hivers grind away onboarding tirelessly all day)
Blockchain and Web3 technologies are reshaping the world as we know it, changing finance, the Internet, and the way businesses operate. To stay at the forefront of this revolution and actively contribute to the community, attending conferences and engaging with fellow enthusiasts is paramount.

DCENTRAL Tokyo 2023: A Gateway to East-meets-West Web3
In just a few days, on September 19-20, 2023, a groundbreaking event is set to take place - DCENTRAL Tokyo. It's Japan's maiden venture into the realm of blockchain, a significant milestone. Builders, creators, and innovators from various blockchain ecosystems will converge in Shibuya to drive discussions and collaborations around emerging technologies.
As we anticipate this event, I envision attending more such conferences in 2024, uniting various dApps to market Hive collectively and proposing funding for members who tirelessly onboard without adequate support. It's essential to recognize the efforts of individuals like @crimsonclad, who dedicate themselves by even funding their own expenses for Hive's cause. We should strive to ensure fair compensation for these relentless contributors.
In this pursuit, considering federal minimum wage and per diem rates is paramount, guaranteeing that our hardworking members have the means to engage with potential onboarders, fostering a supportive and thriving community.
The Best of 2023: Blockchain in Focus
Moving forward, let's look at some other exciting conferences in 2023 that are essential for anyone involved in the blockchain and cryptocurrency sphere:
NFTxLV
Web3 Conference in Las Vegas September 29 to October 1
Read my recent post about it by clicking here
Blockchain Economy Dubai Summit: Shaping the Future of Finance
Scheduled for October 4-5 in Dubai, this summit is a gathering of leading players and experts in the blockchain industry. Dubai, aspiring to be a global crypto hub, provides an ideal backdrop to discuss the future of financial technologies. Attending or having representatives at such summits broadens our knowledge base and networking opportunities.
Ibiza NXT 2023: Where Innovation Meets Paradise
From October 4-6, Ibiza will host the third edition of Ibiza NXT. It's a convergence of esteemed speakers, partnerships, and a vibrant conference experience. This year, they aim to elevate the conference by increasing panels, speakers, and incorporating more entertainment, creating a space for meaningful engagements.
DEGAMEFI International WEB3 Conference: Insights and Opportunities
On October 7-8, Tbilisi, Georgia, will host this thought-provoking conference, bringing together investors, entrepreneurs, developers, and experts in the crypto, blockchain, and gaming sectors. Exploring trends and innovations here could inspire future developments within the Hive ecosystem.
These conferences present incredible opportunities to learn, collaborate, and envision a future where Hive plays a central role in the Web3 narrative. The knowledge gained, partnerships formed, and insights gathered can significantly contribute to our journey.
Looking Ahead: Web3 Conferences in 2024
As we eagerly stride into 2024, two major events catch the eye:
Quantum Miami 2024: Bridging Blockchain to Mainstream
From January 24-26, Quantum Miami will grace sunny Miami for its 11th year. This premier Web3 event is an opportunity to bridge the blockchain into mainstream industries, paving the way for Hive to integrate and thrive in diverse domains.
Crypto306: A Global Crypto Confluence
On February 20-21, 2024, Crypto306 will host an event bringing together the global cryptocurrency community. With a focus on raising awareness and fostering connections, this event aligns with our mission to advance Hive's reach and relevance in the evolving crypto landscape.
In conclusion, active participation in these conferences is more than a commitment; it's a strategic move to elevate Hive's presence, foster collaboration, and shape the future of blockchain technology. Let's unite, learn, and drive the Hive ecosystem forward through these exciting events.
*following all laws and promoting Hive are crucial at this time
Source for Nevada Minimum Wage | Source for Federal Per Diem Rates