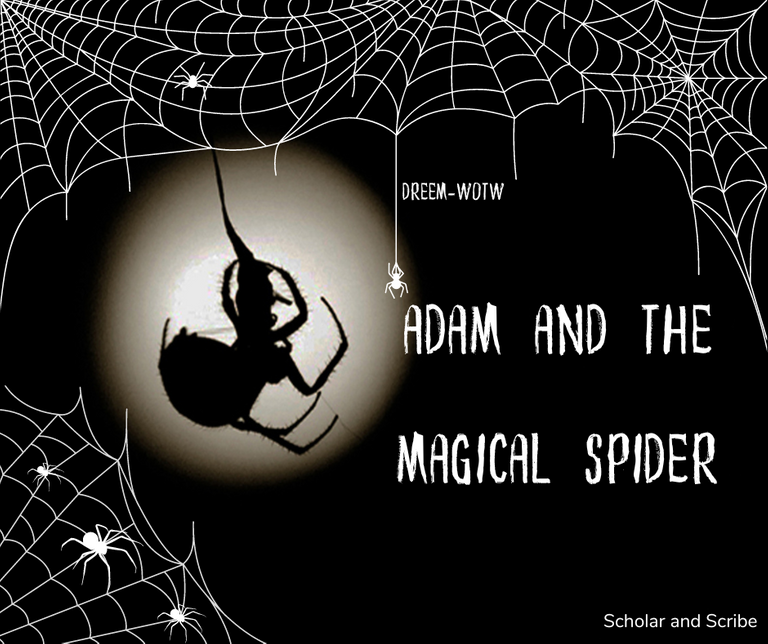 Adam's eyes widened. A saucer-sized spider crawled across his bed, its ebony legs seeming to dance. "It must be a lady spider, the way she moves. She's elegant, like a queen."
He quickly grabbed a plain white handkerchief from his pocket. "Where did you come from? Over here, girl. If anyone else sees you, they'll try to crush you."
As if she understood, the spider changed course towards the boy.
He laid out the handkerchief in invitation, and she stepped onto it. Then she folded her legs under her, hiding the golden markings on the underside of her abdomen.
"You're a real beauty! Are those supposed to be angel's wings on your stomach?"
As if in reply, she flipped over. "They're amazing!" Adam gasped.
She turned back over, then he gently covered her, and put the handkerchief in his pocket.
"Stay still. I have to go down for supper, and if Miss Ruth sees you she'll kill both of us. She's in charge of this orphanage."
A female voice boomed throughout the building. "It's suppertime. Whoever isn't already in their seats need not find one - you'll be cleaning this place from top to bottom instead."
Adam sighed. "Never mind... be glad you can live on flies and other bugs."
The boy pulled out a dresser just far enough to make room for himself, and sat in back of it. Then he took the handkerchief out, and unfolded it on the floor in front of him.
"What's your name?" he whispered.
She crawled towards him, and shot a strand of silk onto his wrist.
He looked at it. "Silky?"
She shook a front leg rapidly, as if scolding him.
Adam grinned. "Don't like it? We'll figure out something else."
Satisfied, the giant spider climbed her strand. Once she was standing on his wrist, the boy's smile vanished. "Are you going to bite me?"
The spider lifted a front leg, and tapped his wrist three times. Then she looked into his eyes.
"Okay, I trust you. But if you get hungry you have to let me know. We'll find something for you other than my arm!"
The spider bowed smoothly, then began to circle his arm rapidly.
"Hey!" he squawked, jerking his arm.
She ignored him, and he relaxed once he realized he wasn't in any danger.
Soon Adam was wearing an almost invisible silk bracelet. The intricate design depicted spiders and angels.
He gasped at the design. "Wow... you're an artist. Maybe I should call you Spinnette?"
She rubbed lovingly against his arm, then jumped onto the floor and scurried into a mousehole.
"Where are you brats?" screamed a female voice. Then silence.
Adam jumped out from behind the dresser, shoved it back, and grabbed a dirty sock. He began scrubbing the bare floor, back turned to the door.
"Maybe you'll learn to be on time in the future," whispered Miss Ruth. In her hand was a thin willow switch.
He turned and held up the dirty sock. "Excuse me, Ma'am. Someone tracked in mud, so I had to stay behind to clean."
"Then get busy."
Obediently he began scrubbing again. Silently, Miss Ruth crept in. She gave Adam a solid swat on the rear, then immediately screamed in pain and terror.
The boy whirled, just in time to see Spinnette climb a strand of silk, directly above Miss Ruth.
"What's wrong, Ma'am?" he asked, careful to keep his eyes locked on his feet.
She touched her neck, and her fingertips were red when she pulled them away. "Something bit my neck. It's bleeding!"
"What was it, Ma'am?"
"If I knew it wouldn't be alive, would it?" she snarled.
"No, Ma'am."
She looked around at the sparse, tidy room. Unable to locate the culprit, she stormed out.
A few seconds later, Spinnette floated down gracefully, and danced over to Adam.
He picked her up, and placed her on his shoulder. "Yuck. She must taste awful!"
Spinnette tapped his neck in agreement, and he laughed.
"Let's get going. If I don't bring in at least a few pence, I won't eat anything tomorrow either."
Spinnette crawled into his pocket, and he let himself out into the foggy evening.
As he walked down the street, Adam felt the spider in his pocket stir… "I'm glad you found me," he whispered to her.
He made his way to the curb directly in front of Zane's General Store, then moved a little ways to the right - away from the view of the counter.
Taking his handkerchief out of his pocket, he set it on the cobblestones. Then he sat down, and put his head between his knees.
Within an hour, Adam had twenty pence. He had been watching a young woman across the street also trying to beg, unsuccessfully.
Adam went to her, holding five pence. "Excuse me, Ma'am. This is for you."
She looked at him, eyes wide. Then they brimmed with unshed tears. "Thank you, young man. But don't you need it for your family?"
"No Ma'am. I'm an orphan, and Miss Ruth will just use it to buy makeup and liquor and other things for herself."
"You can call me Jane. I'm an orphan too, but all grown up, and thrown out to live on the street. If I could only get a job like that, I would try my best to be a second mother to the children. But nobody will hire me..."
"I'm sorry, Jane. I'm certain you would do a fine job."
Unable to speak because the tears had begun to flow, she simply nodded.
Suddenly uncomfortable, Adam hurried back to the orphanage. After handing the money over to Miss Ruth, he went to bed.
"Good night," he whispered to Spinnette. She wriggled out of his pocket, and disappeared into the dark room.
As soon as he was asleep, he became thirsty. He threw off the covers, and got up. "What's going on? I feel weird... like I'm not myself."
Heart racing, he lit a candle. "This isn't the dorm. I'm all alone."
Adam got up, and walked over to a nightstand with a mirror. He dropped the candle, and almost screamed at what he saw. Miss Ruth was looking back at him from within the mirror!
After relighting the candle, he put it on the nightstand. With some experimentation, he realized that he was in Miss Ruth's body!
"This is my chance to do something good..." Adam thought, feeling hope for the first time in years.
Not knowing how to dress her, he chose to let "Miss Ruth" go for a stroll in her flannel nightgown. He went back to Zane's, but of course the woman wasn't there.
"She'll probably be in the park. That's where I'd sleep if I didn't have anywhere..."
Wandering around the deserted park in her nightgown, "Miss Ruth" was a strange sight. Finally Adam got a glimpse of a young woman lying on a bench.
Once he was close enough to identify her, he stopped. "Jane? Jane, wake up."
Jane yawned. The next second, she was wide awake and standing.
"It's fine," he tried to reassure the startled young woman.
"I can't tell her the truth, she'd never believe it," he realized.
"How would you like a job running an orphanage? One of the children I take care of said you might be interested."
Her already wide eyes became saucers. "Yes, I'm very interested."
"You can start tonight? I want to leave as soon as possible. I have a train to catch."
"I don't think it works that way. You'll have to resign, and I'll have to apply, Ma'am."
"No. I'll make my resignation tonight. I'll wake Mr. Clanders from the bank to write and witness it. In the letter, I'll ask for you to be my replacement."
"It's not usually done this way... but if you insist!"
Once the deeds were done, a very tired Adam / Miss Ruth walked into the train station, and stowed away in a baggage car. He made sure to stay awake until the train was well on its way. Then he sighed contentedly, and let the motion lull him to sleep.
He awoke to the sun on his face - in his own room and body! The silk bracelet itched, and when he looked at it, he saw that it was now a part of him. And Spinnette was snuggled against his chest.
"Thank you," he whispered before closing his eyes again, to enjoy his first day in years of sleeping in.
---
---
Cover image made in Canva Pro using their gallery