---
Hello my beautiful people, I'm so happy to be here this week with my entry, last week was really so tight for me and I just couldn't make an entry but I had to this week because of my fans, so you guys won't miss my voice too much, lol. Well, that's just me deceiving myself, hehe. So for this week 46, I did a cover of BLOODY SAMARITAN by Ayra Starr. This song might be new to those outside Nigeria but I'm very sure it's not that unfamiliar to you and if it is, then it's a pleasure to introduce you to it.
---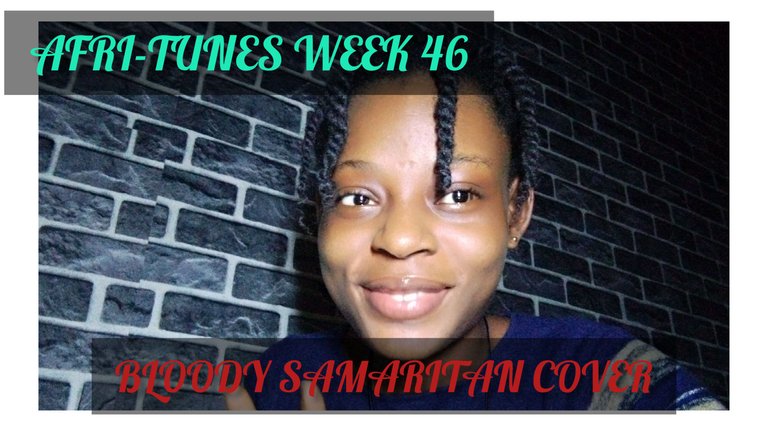 ---
Image is mine


My week has been really so hectic and mind draining, but somehow at the end of the day everything just feels right and I think that's just to show to me that I'm not alone after all, even though I tend to feel that way sometimes. This song by Starr is a song that shows ones dormancy over their own life, wading away bad energies and negatives. You know life can be overwhelming sometimes and if we are not careful we might just end up feeling so lost that nothing, absolutely nothing makes sense. If there is one thing that I would want to remind you is that, you have been given the opportunity to be in charge of your life by the decisions you make.
We have to always make sure to surround ourselves with positive vibes, both people and activities alike. We don't know when life will seem to us that it's not worth living for, so we have to build a positive vibe around us all the time just in case we fall into such situations. We all deserve to be happy but then that won't stop us from feeling sad and that's why having positive vibes around is important and I think it's one of many reasons why Starr might have had such lyrics formed in her head. There are some part on the lyrics that I did not really felt comfortable singing but then I still sang it because I loved most of it.
The song has pidgin in it a lot and I hope you were able to follow but if you weren't, I hope you still enjoyed watching me sing. You can find the lyrics of the song HERE and I also did well to add it to my video for you to easily follow up with.
---
Don't forget to subscribe to the AFRI-TUNES community to enjoy more African songs and if you can, you are welcome to also share an African song with us.
---
Until next time, stay AWESOME!!!
---
▶️ 3Speak