---
It would take me many thousands of hours to answer just some of the questions presented just in this video alone and don't get me started on a number of other dramas which we won't dare mention here or ever.
---
YOUTUBE ORIGINAL | MIRROR | BITCHUTE | ODYSEE | RUMBLE | ARCHIVE | DTUBE | BLURT | ECENCY | HIVE | PEAKD | STEEMIT | VOILK | VYB
---
---
ABOUT | CONTACT | CONTENT | GROUPS | SUPPORT | AUDIO | ARTICLES | PHOTOS | MUSIC | STORE | VIDEOS | WEBSITES | ETC
---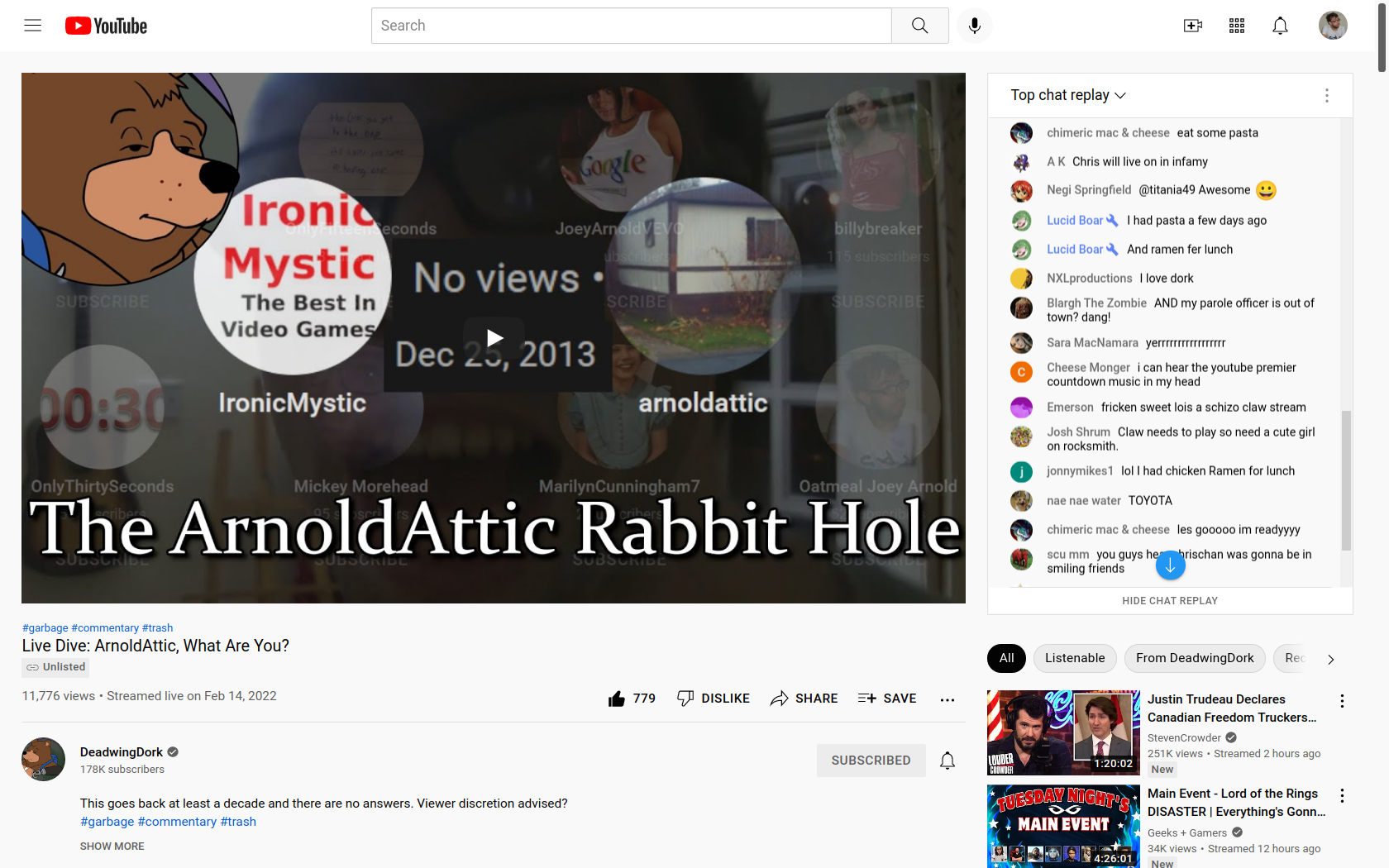 ---
Live Dive: ArnoldAttic, What Are You?
---
DEAD WING
Oatmeal Daily - 2022-02-16 - Wednesday | Published in February of 2022
---
ACCOUNTS | GROUPS | LIBRARY | PEOPLE | PLACES | PRINCIPLES | ARCHIVE | FILES | GAMES | LINKS | MAPS | NEWS | SERIES | TIMELINE | MORE
---
DIRECTORY | HISTORY | SEARCH | TOPICS | ARCHITECTURE | ARTS | CULTURE | EDUCATION | ENTERTAINMENT | GEOGRAPHY | HEALTH | LANGUAGE | LAW | LIFE | PLAY | POLITICS | RELIGION | SCIENCE | TECHNOLOGY | WORK | OTHERWISE
---
THE ORIGINAL - Dead Wing Dork Duck Bear - Live Dive: ArnoldAttic, What Are You?
---
---
Bitchute: Mirror - Live Dive: ArnoldAttic, What Are You?
---
https://www.bitchute.com/video/89xMYPWzUxkK
---
---
---
Instead of writing thousands of words to try to answer some of the questions presented in this video, let me first say I made around 40 YouTube channels as of 2021 and at least three of them were suspended, as in terminated and banned and destroyed and deleted and removed and erased and kicked off. What you see of me online now is only a remnant of what once was as I've lost thousands of videos.
---
This video was streamed Monday night, Valentines Day, the 14th of February of 2022, to the DeadWing Dork Duck Bear YouTube channel and it was also mirrored by the LibraryDork channel.
---
My content is not copyrighted meaning I do not care what people do with my content online. It doesn't matter, I'm talking about anything and everything relating to me or what have you, I'm talking about videos, articles, memes, photos, websites, posts, comments, ideas, questions, forums, webpages, email, messages, dark-web content, secret content, forbidden content, clips, music, audio, pictures, images, links, code, etc, etc, etc, so on and so forth, and much more, to be continued. You can share and mirror this video, etc. You can steal my content or anything you want of mine and say it's yours, I don't care. I always have more to say about too many things. I mean, too many things. So many things.
---
I have more to say about this video and about many many things. I will try to keep you updated via my Hive Blog in my Oatmeal Daily blog posts and via many different websites and social media platforms like Facebook, Gab, Twitter, Minds, Gettr, Instagram, YouTube, etc. I try to be everywhere. I've been banned many times from many websites, etc. Who cares? Why is that important? Well, more on that later, to be continued.
---
---
YouTube | Twitter | Sound Cloud Band Camp
---
YouTube | Twitter | Instagram | Twitch | Patreon
---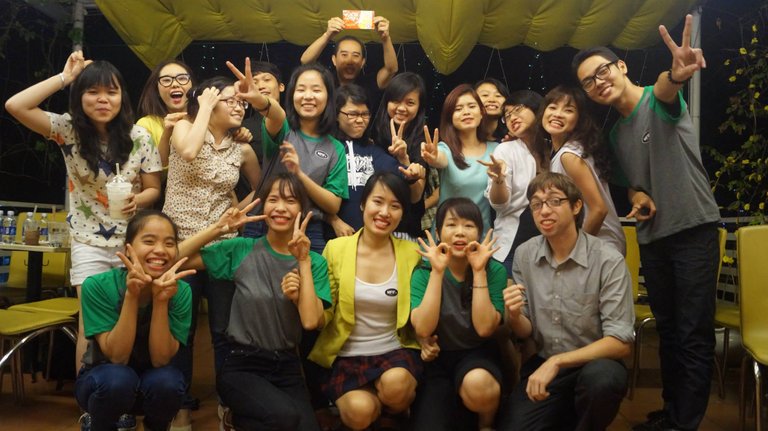 ---
NEW YEARS ENGLISH CLUB PARTY BACK IN 2015 IN VIETNAM
---
TOGETHER WE RISE AND DIVIDED WE FALL
---
WORLD HISTORY AND BREAKING NEWS
---
CHECK OUT MY PREVIOUS POSTS AND ARTICLES AND WRITINGS AND MORE
---
INTRODUCTION PAGE - I FIRST FOUND OUT ABOUT IT THE DAY AFTER IT WAS FIRST POSTED, THE DAY AFTER VALENTINES DAY OF 2022.
---
SECRET TO SUCCESS CAN BE FOUND AT RESET WARS DOT COM
---
HOW TO FIND ME ON THE INTERNET
---
---
---
YOUTUBE ORIGINAL | MIRROR | BITCHUTE | ODYSEE | RUMBLE | ARCHIVE | DTUBE | BLURT | ECENCY | HIVE | PEAKD | STEEMIT | VOILK | VYB
---