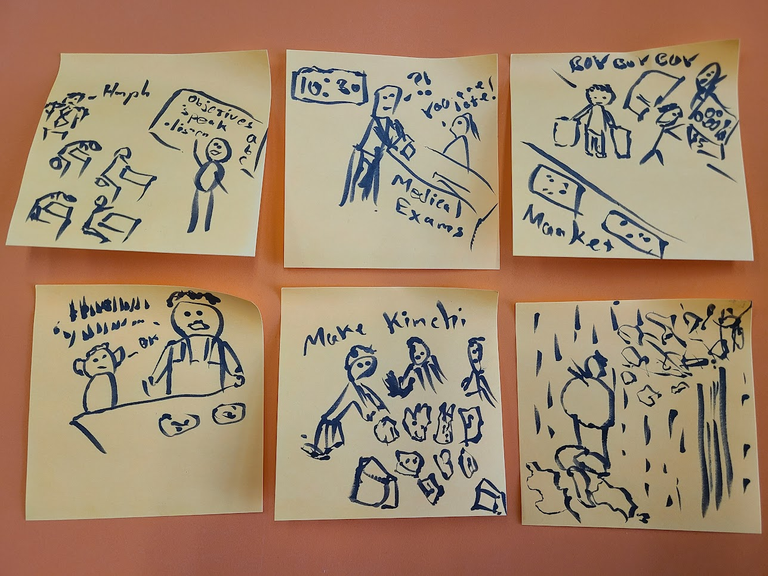 What a crazy weekend.
It began on Friday with my open class for evaluation. I don't like being watched with people wearing neck ties while teaching. You are supposed to imagine the audience wearing no clothes, but instead I felt like the one without any clothes. Some of the students were a bit lethargic in the beginning of class. That all changed when I gave them a mission to work together and find clues in stations around the room. This also helped distract the administrators from watching me because I put one of the clues right behind the place the administrators stand. This made the children get up and run behind the place they were standing.
Luckily these administrators have a heart and they started to take place in helping the students. One the head teachers came across the room out of curiosity to see where the next clue was coming from. I was afraid that my mystery class might have swayed from the objective of preparing students for a role play, but students learn the elements of speech and rehearsed the role play as a group in one of the stations. The response was good and I came home feeling good. I forgot the fact that my wife had left for the airport to pick up a guest from Northern Wisconsin.
The new visitor coming changed a lot of things this weekend. We were up late Friday night talking and in the morning I forgot that I had made an appointment to get a health exam. When I arrived at ten thirty they said it was too late. The nurse then asked the doctor if he would reconsider. Then they asked me if I had fasted the night before. Ooops. I had to reschedule the health exam for two weeks later.
After visiting the doctor my wife met me and used me as a caddy for her market bags. She doesn't need an excuse to buy things but having a guest for the weekend really inspired her to go nuts at the market. We bought 12 persimmons at the fruit stand. I asked the lady at the fruit stand to give us one for free because we bought so many. I told her that's the way merchants have always done it in Korea. She told me that everything cost so much today that she can't give us any discount.
We had lunch with my guest from Wisconsin who talked my ears off. After that my wife had the sense to serve him a platter of cheese. He ate the cheese smiling and then said, "This kind of cheddar you can find anywhere, but in Milwaukee there are small cheese shops that serve specialty cheeses that are exquisite." He started to talk about a shop that he goes to often. I just smiled.
This whole time my mother-in-law was busy making tons of kimchi. The Cabbages were piled up high. It's too much work to make so much kimchi and I don't think we need it all. Next year we are thinking of making the kimchi house by house instead of all together. That would be a lot less stress for my mother-in-law.
After we made the kimchi it started to rain. The rain mixed with the fallen leaves produced a fresh smell that made me remember many fall days from years past. My youngest son jumped in a pile of leaves but his older brother scolded him telling him not to make a mess. It's true that someone did spend a lot of time cleaning the leaves into one pile, but maybe the reason all those leaves were there was for him to jump into them. Anyway, it was too late. He already jumped in the leaves. Yelling at him won't help the leaves to line up into a neat pile. Some leaves fell into the sewer grades over the weekend and caused some local flooding. I tried to help his older brother see that the flood was not caused by a little kid jumping in a pile of leaves.
Sometime this weekend we also found time to visit the Jean Julliard art exhibit in Dongdaemoon Seoul. A lot of the exhibit was pages and pages of his sketch books he kept since childhood. He draws everyday whether it is good or bad or whether he feels good about it or not. It became like breathing for him. I still have a lot to learn.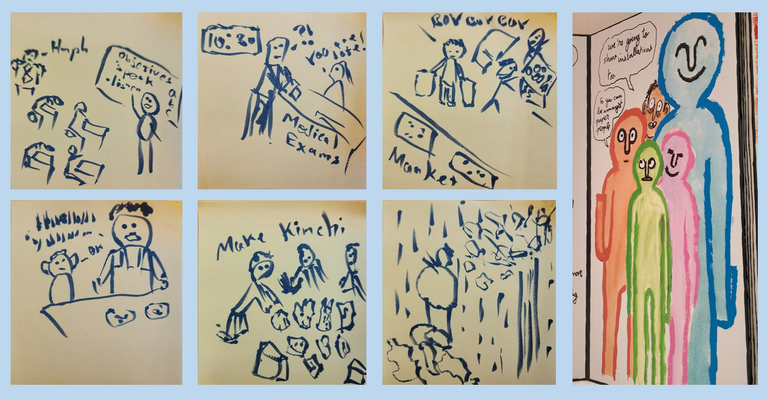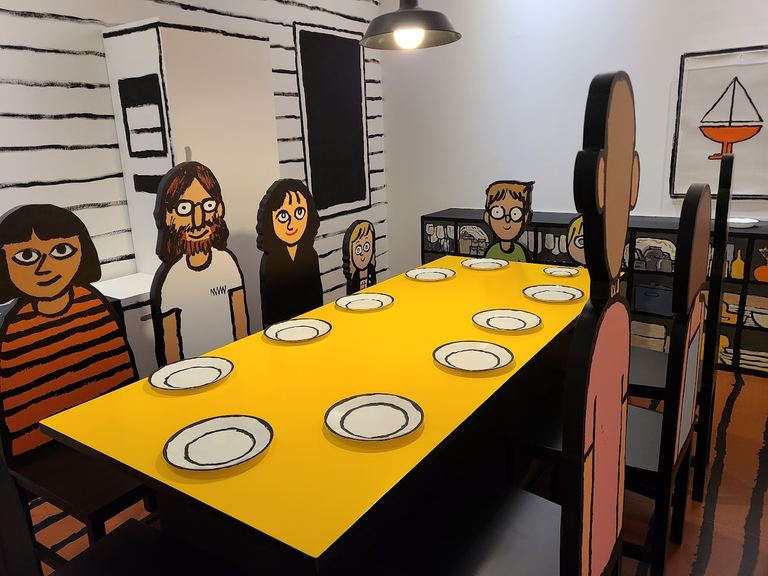 This weekend post tit was inspired by the weekend experiences writing suggestion by @galenkp. ( All pictures here are from my own camera. The table at the bottom was designed by Jean Jullien and taken with permission. )