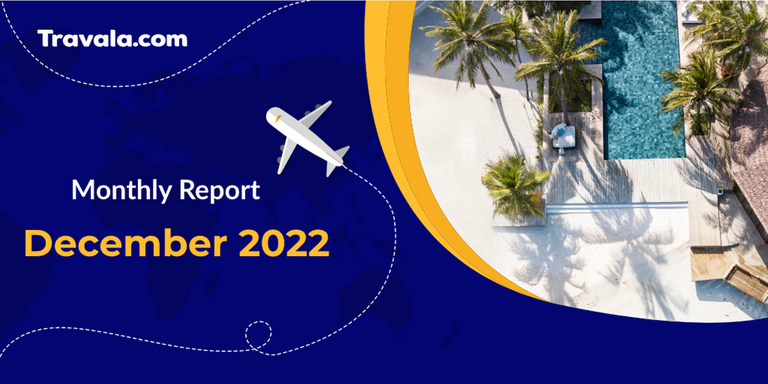 For Travala the year closed on incredible achievements and growth in December 2022. The month saw impressive results across the board, with total revenue reaching $3,367,080, a testament to the hard work and dedication of the team. See the monthly Report for reference.
Accommodation, flight, activity, and concierge bookings all contributed to the impressive figure, with a total of 6,464 room nights booked and 2,809 flights booked. These bookings were made by a diverse group of travelers, with the top 7 countries booked being Thailand, United Arab Emirates, Spain, Turkey, United States, United Kingdom, and Japan. Meanwhile, the top 7 visitors by country were Germany, Netherlands, United States, India, Canada, Turkey, and Russia.
Travala.com's commitment to making travel accessible and inclusive is reflected in the payment options available on the platform. In December, 73% of all bookings were paid with cryptocurrencies, with USDT, Binance Pay, and BUSD proving to be the most popular options.
The platform's user base continues to grow, with over 216,000 monthly active users in December. Additionally, the number of Smart members as of January 1st, 2023 reached 6,420, with a total of 8,392,850 AVA locked, representing 16.10% of the circulating supply.
When it comes to accessing the platform, 59% of bookings were made through the desktop site, 30% through the mobile app, 7% through the mobile web, 3% through the Binance Marketplace, and 1% through MiniApps.
The month of December was a time of impressive growth and success for Travala.com, and the company is looking forward to building on this in the months and years to come. Whether you're booking a romantic getaway, an adventure-packed trip, or just a much-needed break, Travala.com has got you covered.
This is @no-advice for @spinvest-leo


Image by @mariosfame