Few days ago I would say cubfinance as taking a new turn if things, with the recent launch of Cub finance V2. With so many update which was revolving around PolyCub which was at that time the star of the moment when you talk defi 2.0.
As promised by the Leofinance development team during some previous ask me anything (AMA) that they are trying to make the PolyCub vault 2.0 more like a test net, which will make is easier to upload onto cub finance.
Spoken of in one of the publications as regards cub finance v2 which they say they plan release in three phases as the phase one will be about multi token bridge with three vaults which is bHBD-BUSD, bHBD-CUB, bHIVE-CUB. A monthly token burn will happened and it's also great to how multi token bridge will be able to generate it's revenue which are in three forms.
The other phases which is two and three will see the following which is the release of it's governance user interface, it's contract to mention a few while the third phase is release of staking contract which we were duly informed that it's similar to vexPolyCub.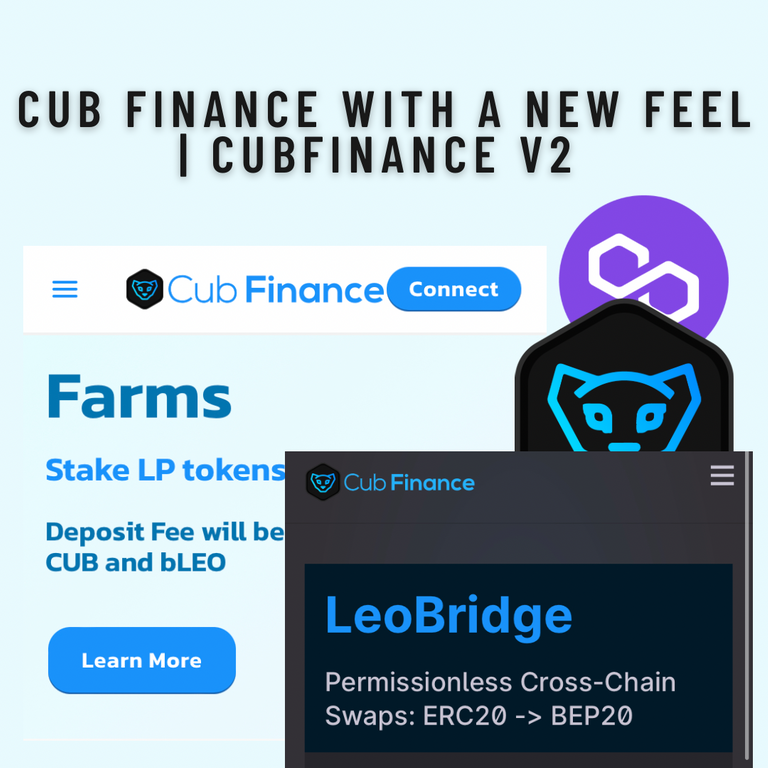 The fact that the Leofinance products and projects is community eccentric, and the relationship which they have been able to establish with it's community is something to be commendable.
From the publication I was able to establish an understanding about how cubfinance will be about to generate revenue and also the multi token bridge.
If you seen this post on a Web2 ecosystem and you have no clue about what Leofinance is here is a brief definition;
LeoFinance is a blockchain-based Web3 community that builds innovative applications on the Hive, BSC, ETH and Polygon blockchains. Our flagship application: LeoFinance.io allows users and creators to engage and share content on the blockchain while earning cryptocurrency rewards.
Over here we refer to users as lions, so are you ready to be a lion here is my referral link
Also don't forget in contributing to the pHBD-USDC pool, and from statistics it looks like we will be able to archive the set target in a few months, let's do our own part in growing the pHBD-USDC liquidity and also take out time to participate in the Leo power up challenge which happens every 15th of each month.
Let's also connect on some of the web2 platform.
Twitter:Hironakamura
Posted Using LeoFinance Beta