---
Slowly the hype over Leo Threads is settling down which is quite normal with every new launch. It's the first step to the release of the standalone application - "Project Blank", which will be a separate microblogging platform on Hive. Right now there are many issues on mobile. The desktop is a bit slow and sometimes takes time to load properly but works fine overall. The community has provided great feedback to Khal & team and I am sure they are working hard to resolve them and add new features to Leo Threads. In the meanwhile, we keep testing the product xD That's the least we can do!
On the launch day, @leogrowth launched a contest where you had to pick any topic of your choice and create a threadstorm of min 20 threads including the first one. @forexbrokr did a kickass job with his first one and that inspired me to do my own. And then he also published a second one which was fully loaded with juicy info. They are the perfect examples of how it should be done.
On Leo Threads, A Thread is like a Tweet on Twitter, and Thread Storm (coined by @anomadsoul) is a series of threads. On Twitter, the series of tweets is called a thread so that's why the name Leo Threads.
So I decided to try my hands and published a thread on 20 life & money lessons I learned the hard way. It took me a decent amount of time to list down my thoughts and then arrange them in small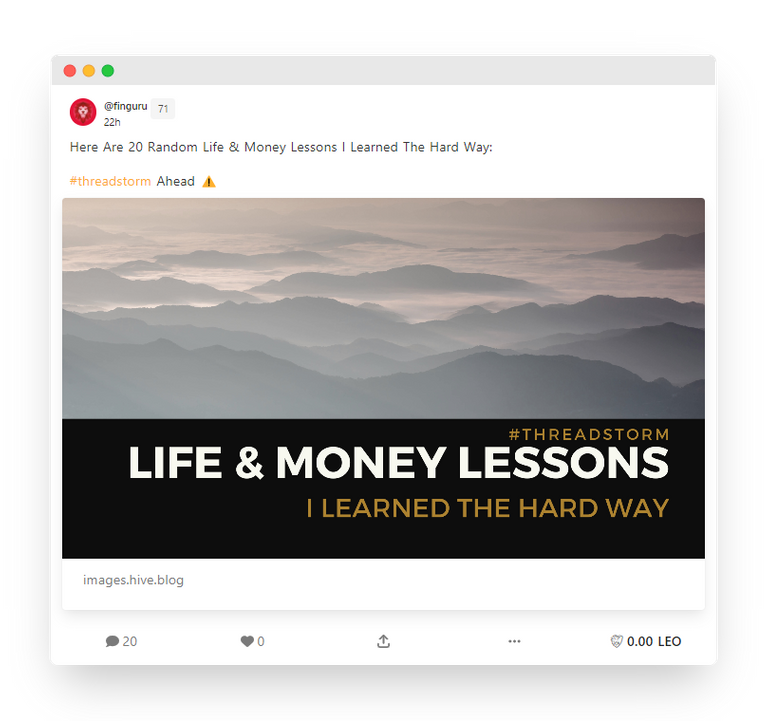 First Thread Of First #Threadstorm
---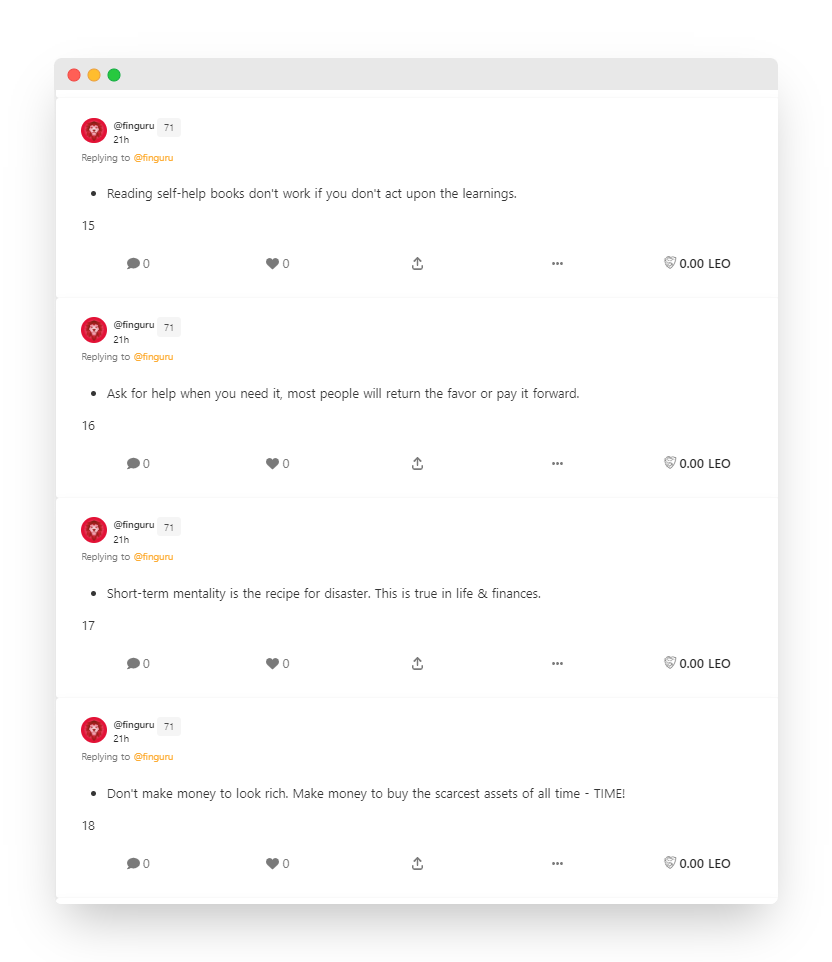 How It Looked
---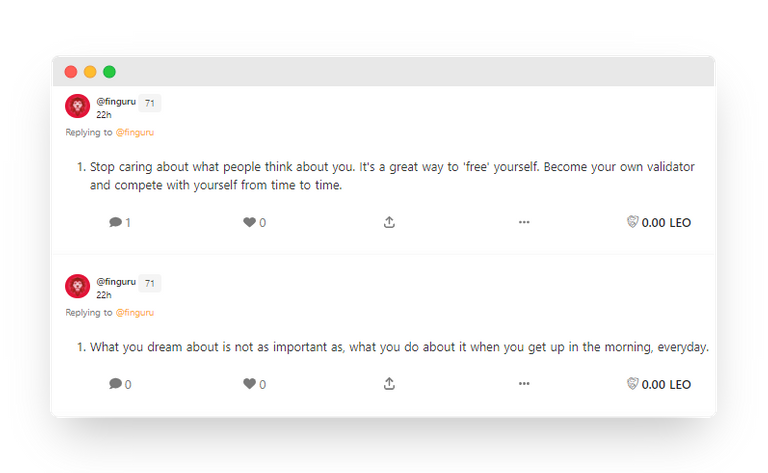 Fucked Up The Numbers Of First Two Threads 🤤
---
Endless Opportunities
Threads will bring outside users to Leo Finance because any type of content is allowed. It's great news for the whole Leo Finance & Hive ecosystem. Users can be very creative with microblogging and the best part it doesn't take much time. Not everyone is made for long-form content. Sometimes people just want to share their thoughts or valuable info with their audiences. Social media should be fun and if it feels like work then what's the point? 😉
It's also a great option for anyone to earn LEO tokens without writing about Leo Finance-related content. Let's not forget that it is one of the top Hive based tokens out there backed by a vibrant community. You can even engage with others and make friends or learn something new. The Opportunities Are Endless!
If you are still wondering what to do, checkout these 7 creative ways to use Leo Threads. And get your first thread or threadstorm out there. https://leofinance.io/threads
---
Follow: https://leofinance.io/@finguru
Twitter: https://twitter.com/finguru6
Discord: finguru#4062
---
Posted Using LeoFinance Beta