When PolyCUB was launched in early March, @khaleelkazi unveiled to everyone on the Leofinance ecosystem that PolyCUB is a DeFi 2.0 platform with a Yield Optimizing Goal.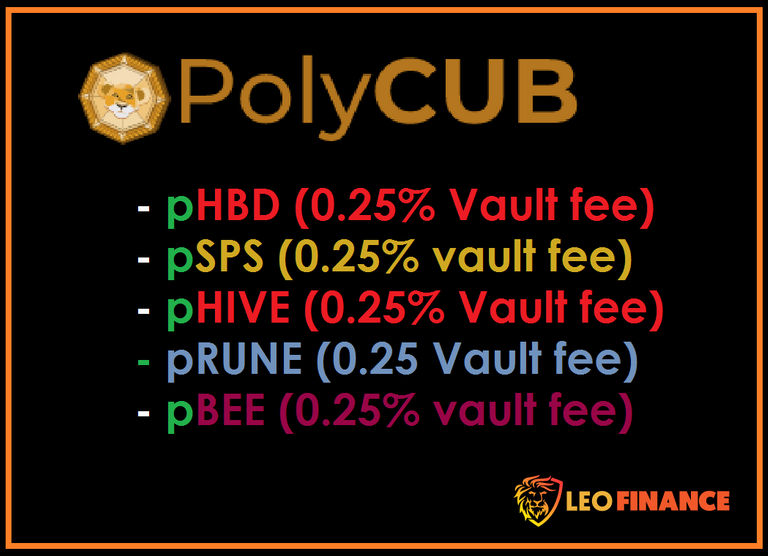 Source
Many didn't see this coming in the first one and half month of the PolyCUB airdrop launch. This was because the price of PolyCub skyrocketed and then after two days, it dipped. During this dip season, only those that further staked PolyCub to xPolycub that were protected.
xPolycub help holders retain their capitals during the early dip season in March. As time went on, the price of PolyCub further dipped to below 8 cents. This situation was a bit discouraging and many became disappointed with PolyCUB and regretted staking PolyCUB.
Today, PolyCUB is seen as the best DeFi platform in 2022, due to the transformation it has brought to both LeoFinance ecosystem and the hive blockchain at large. Hive became a beneficiary of PolyCUB blessing through the arrival of pHBD a wrap version of HBD on the Polygon network.
Thank God for the Hive Witness decision that saw the interest on HBD savings from 12% to 20% APR. This further helped the LeoFinance front desk to use the opportunity to strategize on how to utilize the opportunity. This led to the launching of pHBD in April.
pHBD has brought several goodies to the PolyCUB project, which include: wrapping and unwrapping fees of 0.25% on PolyCUB owned liquidity (Pol), and it's pegged at 1 pHBD: 1 HBD.
Every week unveils a new utility to the PolyCUB DeFi and this makes PolyCUB inarguably the best DeFi platform in 2022 combining the functionalities of DeFi 1.0 and 2.0. Hinged on sustainability, PolyCUB is built to last and to give a sustainable reward for Liquidity provision against the conventional DeFi that only serves early participants.Source
This fact is super amazing, because as a DeFi 2.0 platform, PolyCUB has to go beyond the conventional patterns to create new paradigm for others to follow. This new paradigm shift is fastened to its ability to sustain itself for a longer period of time. One of the ways to achieve this is through the V2 vault which have commenced since the past two weeks through pHBD vault.
Today, the long awaited pHIVE vault has been added to the PolyCUB DeFi and this means more accrual from the wrapping/unwrapping fees as well as vault fees which add to the POLYCUB revenue for future buy back.Source
Seeing the values created by pHBD, many within and outside the blockchain have anticipated the arrival of pHIVE. Today, have brought that dream to pass and it offers user/holders more opportunities to make more money. The target is to set PolyCUB to go beyond $1 into at least $5 mark before the end of the month.
Three days ago, POLYCUB was sitting at $0.13 and I said it was bottoming. Now, we can see the gradual flip to $0.18. That's already a 16% price up for those who bought in at that low. With more vaults being added and more tokens traded on PolyCUB vaults, we can only see a rising $POLYCUB towards the $5 true value as Khal had predicted.Source
As pHIVE have been actualized, we're expecting more V2 vaults to be launched in couple of weeks to come and if we look at the rewards on PolyCUB owned liquidity of 0.25% when calculated in accordance to all the expected vaults, we'll be heading towards a $5 mark or even above for PolyCUB once all these vaults are launched.
Anticipate the following V2 vaults to be launched: pSPS, pRUNE, pBEE and many others.
Posted Using LeoFinance Beta