It's funny, ever since I started coding on JavaScript, I write two-word names as CamelCase instead of like a normal person does. I realized I now write CoinDesk, BeInCrypto, LeoFinance instead of Coin Gecko or Coin Market Cap.
Oh right, the topic isn't developers habits, but the tokenization and innovation on every corner of the Leoverse - I don't even know if this is a word, I just minted it, like an NFT. It's worthless and I am the only one using it, but it's minted now.
But wait, what does CoinTelegraph, CoinDesk, CoinGecko, CoinMarketCap and all these names have in common? Why is LeoFinance so obsessed about having the PolyCub name up there with those OG names?
Easy
Trust and Potential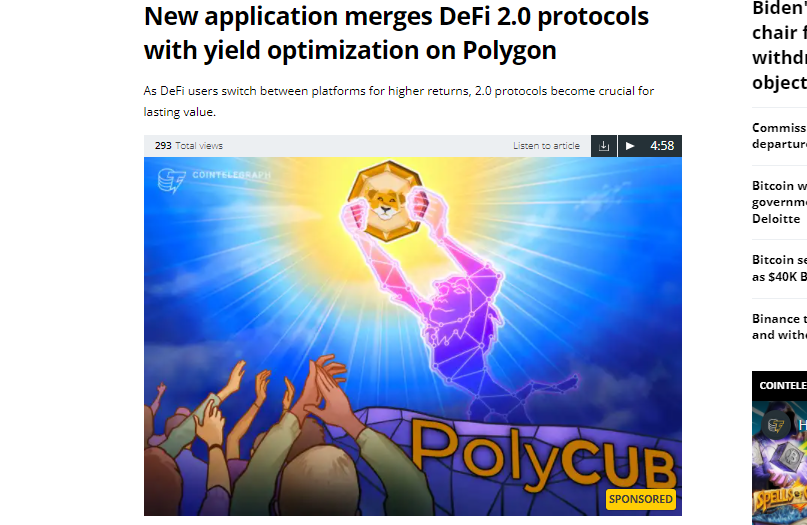 PolyCub was launched ten days ago. Only ten days ago and it is already listed in most of the Cryptocurrency data aggregators, portfolio trackers and insight & value drivers in the space and, if it's not yet listed, it will be in a matter of days.
CoinMarketCap, CoinGecko, Nomics, CoinStats, Kubera and damn, so many other Crypto trackers have already listed PolyCub but that's not the only thing, even DeFi specialized trackers such as Debank, Zerion, Zapper and APYVision are on their way to list it.
I am not shilling, in fact I don't care if you don't click the links and see for yourself, my point goes beyond that. My point is, if your token is listed, people will see it. It doesn't matter if they buy it or not, when someone hears about PolyCub and they decide to look it up on their favorite tracker - no matter if it is the popular Coin Gecko or the Underground LiveCoinWatch - they have to find it, they have to be able to believe the token actually exists and if it is listed on their favorite portfolio tracker well, at least it is legit, right?
That's the first step for PolyCub and their aggressive market strategy: To be there when potential users get curious and want to know more about PCub. That is why being listed on CMC and CG is not enough, especially since the cryptosphere is growing every day and DeFi is becoming a self sustaining universe apart from traditional crypto. If a DeFi project wants to be relevant, it has to be there to be researched.
It's not enough to build and think they'll come, you have to be available in all the possible channels users might look you up.
But if the users find your token on a tracker, then what? It's not like people does their own research.
Let Others speak for you
CoinTelegraph published an article about PolyCub a few hours ago and I am not going to tell you what it says, I guess you'll have to click on the link to find out. I won't tell you because this post is not about the content of the article, but what it means for PolyCub.
I read from a user on Discord a few minutes ago that CoinTelegraph doesn't push users into a project and doesn't drive FOMO in the cryptoverse.
Well, if you think that the point of PolyCub being featured in a CoinTelegraph article is to drive users into buying pCub then let us look at the situation from another point of view:
Let's say our potential user heard about PolyCub on reddit, then went into his favorite tracker to search for the price action and yes, pCub is there. Then, the user googles PolyCub. We both know that he won't scroll past the 5th option and if he doesn't find anything polycub related, he will lose interest, but if he finds a CoinTelegraph article high up on the google search well, now we are talking.
The point of publishing articles in highly respected and known media platforms is not to drive people to buy a token, at least not actively, but to create a synergy between the Press Releases, the Tracker Listings, the Twitter madness, the Organic users, and the Community. If a potential community member gets blasted by PolyCub from several ends, and then they decide to DTOR and finds articles, press releases and news about the token, the community and the platform, then his trust towards the project will grow - and damn we know that DeFi projects need trust before anything else.
Organic views help the articles SEO and giving it some organic traffic, perhaps a retweet or a facebook share ultimately will drive the article higher up on search engines. Everything helps and in the end, this is the first article part of a Marketing Bonanza, but can you imagine how it will positively affect the PolyCub community when PolyCub is every
Posted Using LeoFinance Beta