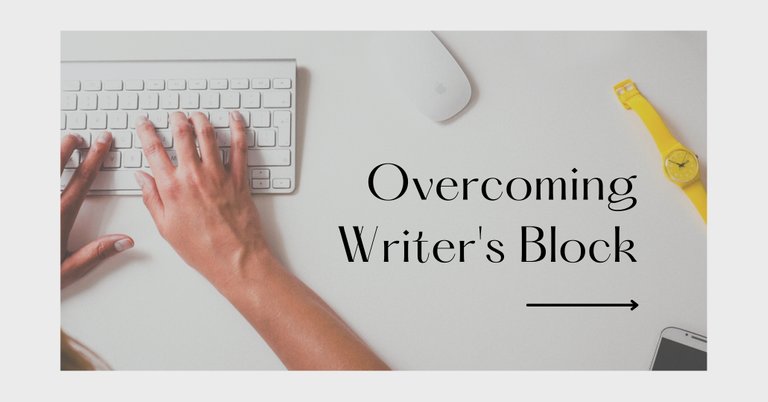 ---
It's inevitable: at some point in every writer's life, they will encounter the dreaded writer's block.
No matter how easy you think it might be to write down your thoughts on a subject, there are times when putting words on paper seems impossible. When this happens, your frustration can lead you to think about giving up writing altogether.
Fortunately for us all, there are plenty of ways to overcome writer's block and get back into the zone where ideas flow freely and easily. You just need to know what works best for each individual writer because everyone's situation is different.
Try putting yourself in the right state of mind
If you are struggling to write, but not coming up with a great idea, try putting yourself in the right state of mind. If you can do this, then it will be easier for your writing brain to kick in and help you get started.
You may have experienced this before when writing something spontaneously; perhaps after meditating or drinking some coffee before writing. You just seem more creative than usual and everything comes together more easily. This is because you have entered into a state of consciousness where your subconscious mind is more accessible and can help out by generating ideas that would otherwise remain hidden from conscious awareness.
So how do we go about getting ourselves into such states? There are many ways of doing so: meditation works well for many people; yoga or other physical activity helps some people relax; music can also work by stimulating certain neurotransmitters (chemicals released by nerve cells) which make us feel good; even alcohol consumption has been shown to improve creativity if consumed in moderation! 🤤
Don't get too attached to your first sentence or paragraph
The first draft is just that: a draft, not the final product. As you write and edit, you'll have plenty of opportunities to tweak what you've done so far and make it better.
Don't feel like you have to spend hours on every single sentence; just get the ideas down so that later, when you're ready for more detailed work, they'll be there waiting for you.
Get some distance from the piece you are working on
If you want to overcome writer's block, the best thing you can do is get some distance from your work. Stop working on that blog for a while and do something else. This can be as simple as taking a walk or getting some coffee with a friend - but make sure it's not writing-related!
Don't force yourself to even think about it until at least a few hours (up to 24 hours) have passed since you last opened up your notebook or computer. By then, hopefully, all the mental clutter has cleared away enough for new ideas and inspiration to come through in full force! As long as they don't find their way back onto paper immediately after leaving them behind (which would defeat the purpose), this technique will work wonders in clearing out any blocks that might be holding back your creativity.
Stop trying to craft the perfect piece and just start writing
Don't worry about how your writing will sound. Don't worry about what other people will think of it. There's no perfect piece and there's no need to craft one. All that matters is that you start writing, just as you would if someone was paying you by the hour to write a piece with their name on it.
You don't need an audience for this either - you can just think out loud in front of yourself or write letters to yourself, whatever works for you. You're not going for quality here, only quantity!
Use a prompt or writing exercise
Writing prompts or writing exercises are a great way to get your creative juices flowing. There are many different types of prompts and exercises you can use for this purpose, but the key is to find one that fits your topic and writes about it! Some examples include:
Write about a childhood memory
Write about a time you were scared
Write about a time you were angry
Write about a time you were happy (or unhappy)
Write about something that has happened recently
Use freewriting technique
Free writing is a technique where you just write without stopping. This can be helpful if you're having trouble getting your ideas flowing, or if it's been a while since you wrote and want to get more comfortable with your writing style. It also helps because it gives you practice and familiarity with the pen in your hand.
How to do it: Set a timer for 7 minutes, then start typing whatever comes into your head onto an open document on your computer or phone (or even by hand). Don't worry about spelling mistakes or sentence structure at first - just take advantage of those 7 minutes to get down whatever comes into your head.
After seven minutes are up, stop writing and look over what has been written so far. Look for any common themes among these sentences and words; ask yourself questions like "What am I trying to say?" or "What do I want my reader to understand?" Make notes as needed so that when re-reading later on this will help guide where the next steps should go!
Explore different forms of writing or topics that interest you
If you are struggling with writer's block, try exploring different forms of writing or topics that interest you. Write a poem, short story, blog post or series, screenplay, or play! You can even try writing a song. The possibilities really are endless when it comes to overcoming writer's block.
Get it off your chest
One of the best ways to overcome writer's block is by talking about it. Whether you're having trouble opening your laptop or penning a blog post, it can be really helpful to discuss what you're experiencing with someone who has been there before.
There are two reasons for this:
Talking about what you are going through helps get it out of your head and onto the table; therefore, making room for new thoughts and ideas to enter in their place.
Talking about what you are going through with someone who understands it will help bring clarity to how best to work through this difficult time period in your life as a writer/artist/musician/whatever-your-craft-of-choice-is person!
Conclusion
The key to overcoming writer's block is to keep trying and not give up. If you find yourself stuck, try one of these tricks. Even if they don't work, they will help you develop new ideas and strategies for when you get stuck in the future!