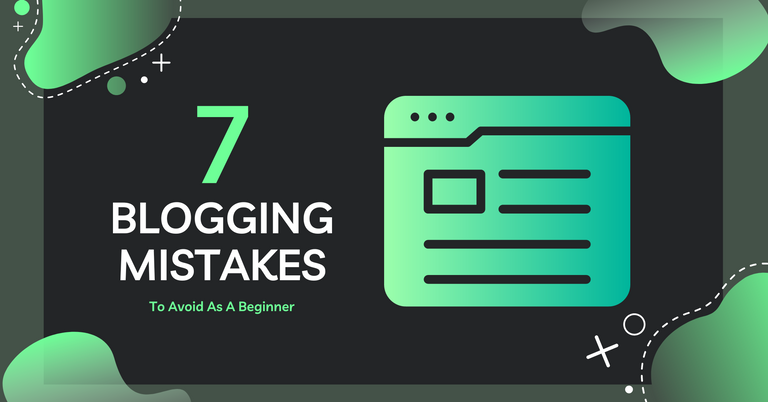 ---
If you've just started as a blogger on Hive but aren't sure where to begin, this post is for you. I've compiled the top seven mistakes I see new bloggers make all the time. You can avoid them to up your game.
Because if you don't know what NOT to do, how will you know WHAT TO DO?
So grab your favorite drink and get ready to learn some tricks!
Getting Afraid To Make Mistakes
Yep, that's the first one. Getting afraid to make mistakes is the biggest mistake we all do as a newbie in any new field. They are the best teachers. Don't be afraid of being candid about your them as a newbie blogger. Everyone makes them - even the big-league bloggers who write for The Huffington Post 😂
If we can all be honest with ourselves about our failures (and successes), then no one has an excuse not to start their blogging journey with the full blown mode.
Not Establishing A Niche For Your Blog
"What is a niche?" you ask. Good question! It's the same as it sounds: A niche is like a special area of interest that you focus on when blogging, in order to build an audience around your specific topic.
For example, let's say that you're interested in cooking and baking—you love experimenting with new recipes and sharing them on social media. If you suddenly start publishing blogs about finance, would anyone read it? Probably not! In order to build up an audience around that subject matter alone, you do need to focus on one or a set of correlated niches.
You can also touch upon two different niches at once but don't overdo it. You don't want your one set of audience to wait for long while entertaining the other set. My niches are content creation and crypto. So I try to keep both audiences warm with the content they like.
Not Writing About What You Love
I know you want to be a blogger. You love writing, and it seems like the perfect way to share your ideas with the world. That's awesome! But why are you blogging? Because you think it would be cool? Because your mom said you should? Or do you have some sort of burning passion for this subject that drives you to write about it every day, even when no one else is reading?
I get dopamine when I write about crypto, finance & content creation. Firstly I write for myself and then comes the audience. Call me selfish but that's how it is. If I am not passionate about it, I won't do it for 5 years.
Thinking Of Blogging As Only A Hobby
Many bloggers make the mistake of thinking that blogging is just a hobby, and thus they don't put in the time and effort necessary to create an income from it. While it's true that many bloggers enjoy blogging because they like writing or are passionate about a topic, there are also plenty who blog as a business or for personal gain—and if you're one of those people, then you're already thinking like a professional!
As we go on in this article, think about how each piece of advice will help your blog to earn more so you can take it seriously and act accordingly.
Blogging Without Goals
You, too, could be the next success story. Just follow these simple steps:
Write down your goals. This is important because it's easy to forget what you're doing when you have no tangible way of seeing them. Writing them down gives you a visual reminder of what exactly it is that you want to accomplish while blogging and forces you to commit yourself to their completion. They don't have to be big—they just need to be specific enough for someone else (and yourself) who doesn't know anything about your blog. I have Hive Power and Leo Power Goals. I also have goals about the number of blogs I want to publish every month.
Review them regularly—at least once per week at first, then maybe less frequently as time goes on if things start coming together nicely! It's good practice and will keep the momentum going even when things get slow or stale around here. This way there are no surprises when we revisit our goals later on down the road.
Not Utilizing Visuals In Your Blogs
One of the most important things you can do to make your blog posts more effective is to use visuals.
I know, I know—this sounds about as groundbreaking as "always say please and thank you." But hear me out! Using images in your posts can do a lot for you. It can enhance your content by adding visual elements, making them more visually appealing. Visuals break up the text so readers don't get bored with one big block of text, make your content more shareable on social media platforms like Pinterest (where people love to share pretty pictures), and even help search engines find your blog post when someone searches for keywords related to those visuals.
Poor Grammar, Punctuation & Spelling
When you start blogging, it's easy to get swept up in the excitement of sharing your stories with people. However, you must make sure that your writing is free from mistakes. If there are any errors in your content, it may distract readers from what you are trying to say. This can lead to their trust in your blog being damaged and them not wanting to read future posts on the topic anymore. It's important that all content is clear so people can understand what you mean when they read it. That's why my writing is so simple. I don't use long sentences unless I really need to.
Make use of a spellchecker before posting anything online (or at least check over everything afterwards). Learn about how grammar works so that you don't make too many mistakes when writing articles. If possible use an editor or take help from someone else who has good knowledge of the English language.
Final Note
Hopefully, by now, you're convinced of the importance of avoiding these seven mistakes when starting a blog on Hive or anywhere in general. Please share your thoughts and feedback below. I love to read all of them! ❤️🔥 See you in the next one.
---
Follow: https://leofinance.io/@finguru
Twitter: https://twitter.com/finguru6
Discord: finguru#4062
---