There are so many authors on hive who are really great and they do influence (either it can be good or it can be bad) other users. That totally depends upon the users who are reading the post and how they want to take it. Most of the time the author does try their best to be neutral in many matters I do that a lot.
If you have no idea about what is going on then try to read about The situation or you can simply let it go.
So, there are so many amazing authors I do visit a day, as I am a curator I did get a chance to visit many posts a day. to be honest I don't have that much time to read and sometimes you don't have to read anything if they are photos sometimes I did get lost in the photos that many users post here daily. If you will look over the users all over the hive you will find that the list is not small it will be a long list for sure and there are many new authors, artists, photographs, etc joining the hive daily so the list will be big and you will keep adding users on the list.
---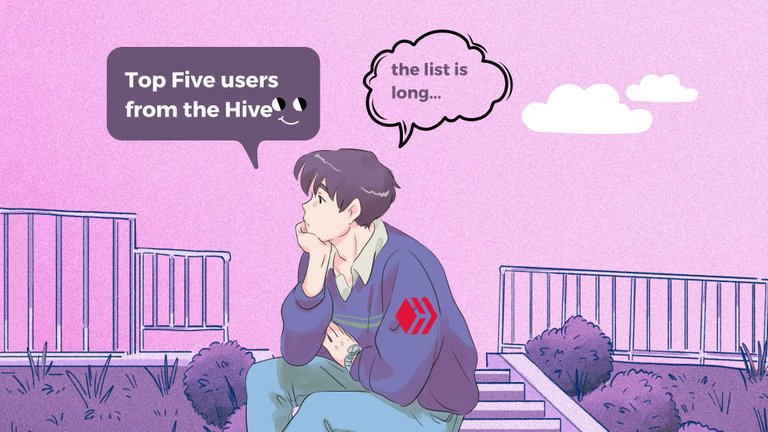 ---
Made Via Canve Pro
We did get connected with some of the authors they can be from different professions for sure. we all do know them by their posts. we do make an imaginary character in our mind about that particular person if we haven't seen him/her accruing the posts they share here. If you know them or they have shared their photos or videos then you know how they are.
what do you think about how I look 😜, can you imagine me based on my posts. not going to be an easy task for sure.
So, let's stick to the post topic the list was long but I did mention the users who come up in my mind first, it seems like they're close and social to me. if you will read below you will know for sure.

@inuke bhai is the person who I do know from the day I joined seetmit , so I do know him for a long. I am not sure how long he does know me :p. I am really a very big fan of his writing skills. He does have magic in his words. #hive is an open book if you did get a chance to read feel free to read @inuke bhai's old post it will be very easy for you because he dont post that much 😅. But I can bet that, if you will read his post you will start loving the way how he writes the stories even though many of them are imaginary but still it is not an easy task to do that. we used to talk weekly on discord now he is a married man and he is busy still we do talk on the Saturday show at ecency soon we will get a chance to be together on @indiaunited too.
From day one I am a big fan of his writing skills, maybe that is the reason why I am able to write more than before. He inspired me to write and polish my skills more. I am not comparing myself with him that will be an insult for sure. I do feel like we all are family members and connected even though we haven't met yet but I am sure we will meet one day and sure going to share those moments here on the hive. I hope after reading this bade bhai you will surely be going to make an amazing story/post soon, I will wait for that.
Btw @inuke bhai is hosting contests too you can check out his profile if you are interested to take part in the contests.

what to say about him, he is everywhere I am sure you do know him for sure. He seems to be everywhere, he is not an old user but still, we did get connected on Indiaunited discord. To be honest we are not that close from day one but he seems to be a good explorer. If you have a hunger to learn things then sure you can learn them faster. He does post in many communities and he is active in many communities too. I am also in many communities but active like how he is everywhere. I would like to say a line to him "share ja rahe ho bhai"
I like his travel posts a lot I like how he presents them in his post, to be honest, I get inspired by him to make travel posts too he does remind me of that. I am sure one day we will visit a place together maybe with some more hive users, it will be sure fun. Thanks to him we did get a chance to meet many new hive users on the Saturday night show. How time flies there we don't even realize.Thanks brother, keep doing the good work.

I do know him from day one I was on the steemit , not really that much friendly (I mean we don't have that much chat at the beginning )at the start I guess. That is how I did remember that. I was not a chatty person now I do a bit as we compare to the old days. I am very much active in a few communities. Thanks to Bala bhai for the great work he is doing all over the hive.
I do like his way to present new things on the hive, I have started exploring many platforms after he made a post on that.
I like the way how he explains things to others on the hive, I do wait for his posts if thing bug happens in the hive he did make a good explanation about that in simple words. For me, that seems to be really good and easy to read and understand. He is really going great work all over the hive, and he is really working hard on many projects. Sometimes I do feel like he is a human or he is a robot. Thanks to him for showing his trust in me and he does guide me in many ways, Relly is grateful to him.

He is not that old but he seems to be really great at what is doing. I do feel amazed by this artwork. He is really great at his work for sure. I am really a big fan of his from day one. I was not sure that he is for real in the early day, it is not easy to believe someone on day one that seems to be obvious.
But as time passed I did see how good he is at his artwork.
Really feel great to see artists like him here who are making hive a better place. There are so many great artists who do post on the hive which is quite amazing.
I used to make artwork not that much good at that just make some cartoons he is really at the next level. He is at his college and he did manage to make posts for the hive not that much which is ok I guess he will be more active on the hive. I will try to make some artwork and share that on the hive. Don't laugh at me if you see that. You are doing great bhai keep it up.

last but not the least, yes you are on my list too. Mr @cwow2: he seems to be an interesting person to me. even though he doesn't post that much but still his posts are quite interesting. I do like how he tries to come up with things in his post, that did get my eyes stuck on his post. I do learn many things from his post he does share interesting things via his posts, sometimes silly too.
we are connected via our posts whenever I do see his post I did share my thoughts on that. I do try to make my comment more interesting. Sometimes our comment thread is big. It feels great to have a good conversation in the comment section I am sure we do love that sometimes (not with everyone for sure).
what about you?
If you will look closely at everyone's posts on hive sure they do teach us something that is up to you are you interested to learn or not?
see you in the next post till then, Keep learning and keep exploring...
If you are new to the splinterlands game then feel free to join my referral 😁
few posts from my past that might be helpful for you.

10 daily comments ❌
Eceny Boost ✅
Help others ✅
wish me luck 😅
Thanks a lot for staying till the end 😃🙏, let me know what you think.
Never forget one thing you should be grateful for because what you have someone has a dream of that. So learn to be grateful. Be Thankful.🙏😀
Thanks a lot for being here, let me know what you think.


Thanks & Regards
@bhattg
-----Together we will make this a better place-----