Hello....good evening dear friend #ASEANHIVE The community that I am proud of right now and where we are smiling and happy with each other in developing and advancing our account and this community being the best in a collection of various regions and regions. And it's not like we can always unite even though we are different and we are still one with the desire to progress and grow well in this community.
On a good occasion and tonight I have some impressions before returning from a hangout at a coffee shop located around the same city but in a different location.
After returning from that place, I am also currently writing and being a freelance salesperson who is not necessarily able to earn a regular income, and before arriving home I took the time to stop on a trip that looks like a small forest, I can say that it is a bush with wild green leaf plants. And there must be something I can share for tonight, and my guess is right and I'm also a little lucky for sure, especially last night it just rained for sure every little animal will adapt or find its prey, and as seen from some of the pictures I got this , a spider that is preying on a bee or some kind of ant that is entangled in a web and is dead and this beautiful spider can enjoy its afternoon meal maybe for a few days lol.....
You and your friends can see for yourself from several editions of the images that I have filtered to encourage me and friends to always visit my account.
The type of spider I met today, the spider is Oxyopes salticus And the type of spider species belonging to the spider family Oxyopidae. This species is also part of the genus Oxyopes and the order Araneae. This type was first discovered in, by Hentz. And this spider is usually found in the United States and Brazil.
Oxyopes salticus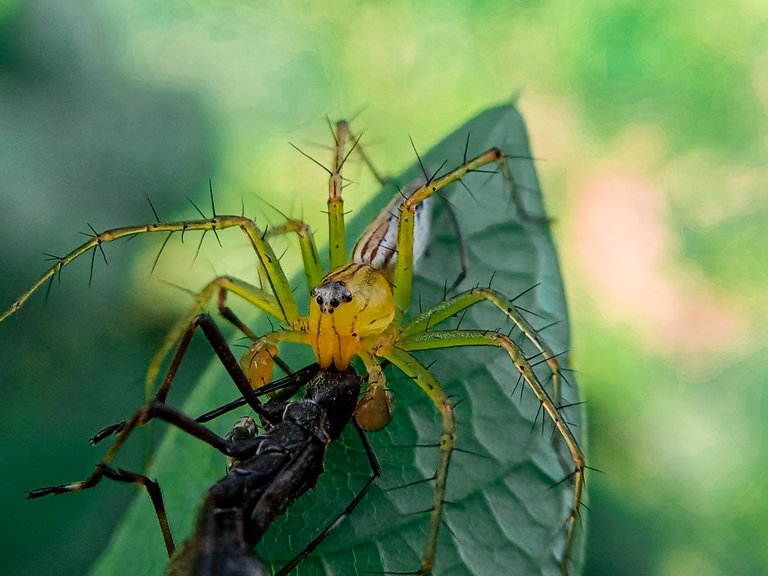 Oxyopes salticus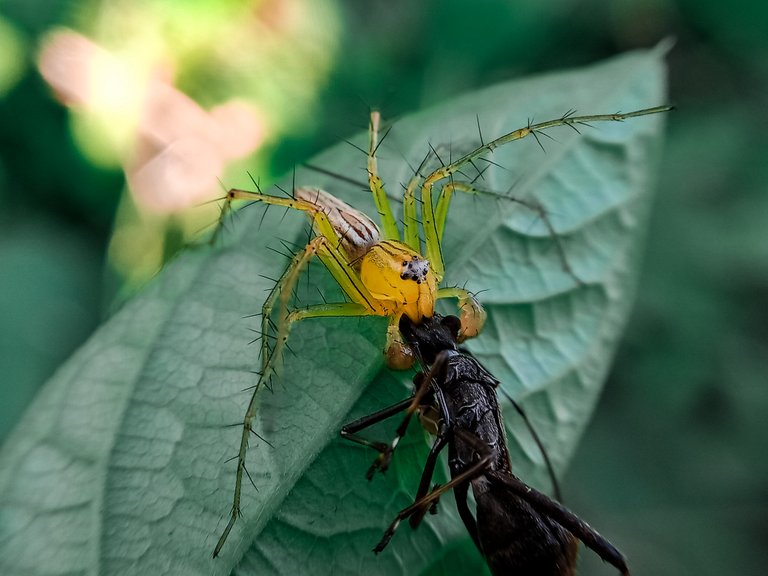 Oxyopes salticus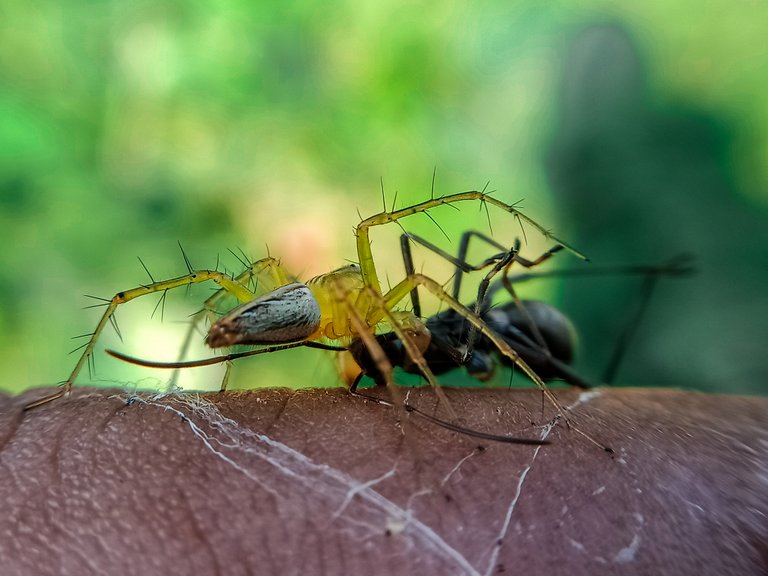 And while I was having fun taking some pictures on the leaves, this spider jumped up on my visible hand, maybe he was a little distracted and tried to surprise me, and not long after that I also accidentally took one on my hand, and after that I lower it again on the green dun so that the food in its mouth does not come off.
Oxyopes salticus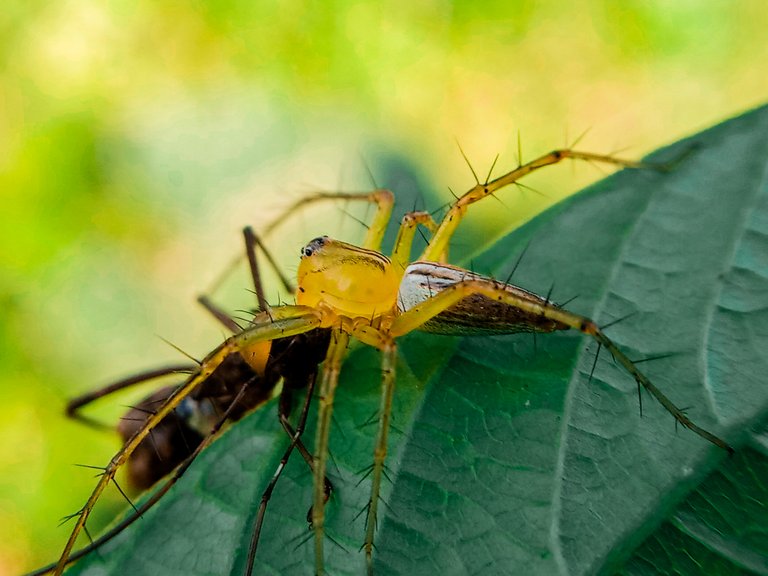 Oxyopes salticus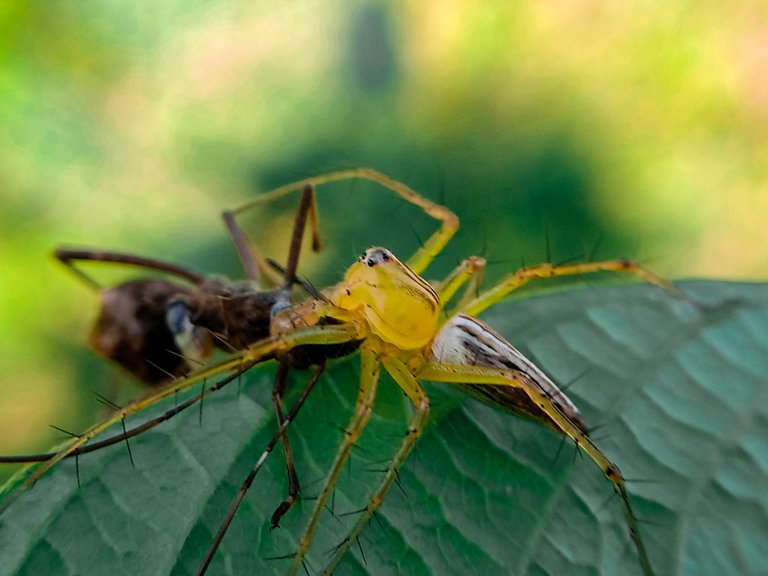 Oxyopes salticus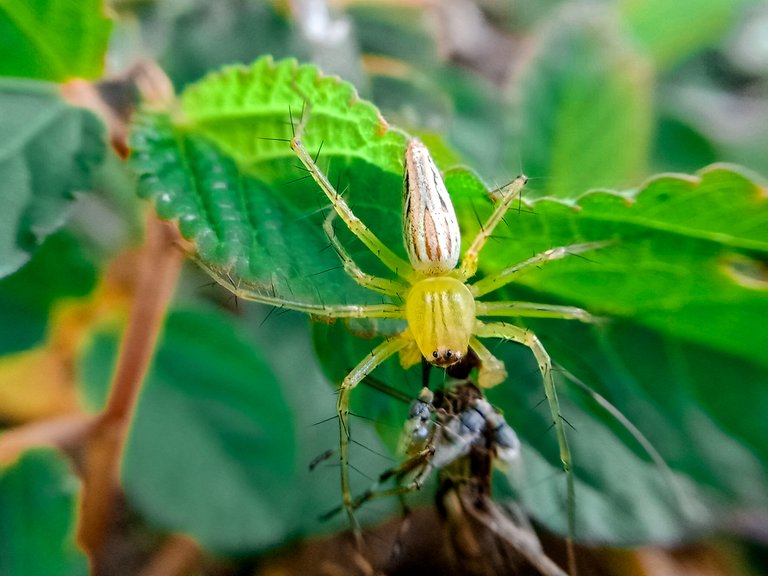 I'm a little scared, remembering a Spiderman movie where Piterparkert was bitten by a spider and it's just a movie, and I just don't want to rhyme a little while reading the current continuation, and friends not to be so tense while in my blog this for sure, thank you for still visiting me, I'm starting to like photography, because some Indonesian friends who are in aceh always have extraordinary macro photography. I want to follow them now, hopefully they can become friends in the community and also when we meet face-to-face in the future.
Hope you all like some of the portrait shots I have on this beautiful night, have a good night and have a good rest.
| Category | Photography macro spiders |
| --- | --- |
| Location | Street forest |
| Camera | Smartphone Oppo A12 + lensmacro lesbong |
| Editing | lighrooms app |
| Iso | Otomatis |
| Photographer | @lingkar-photo |