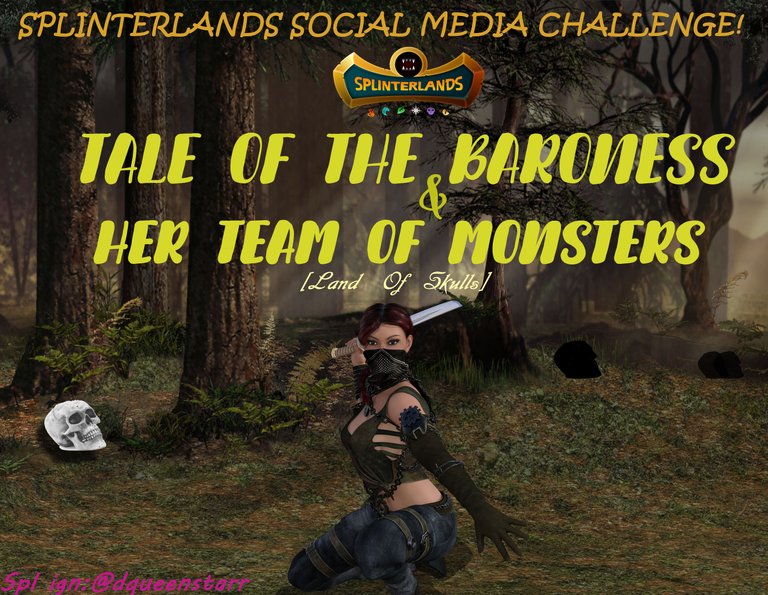 Weak and thirsty, the Baroness dragged her feet. She'd been through a lot of battles in the last several days and couldn't believe she'd made it through them all. She had just arrived in THE REALM OF DIAMONDS, an uncharted realm. This was unfamiliar ground, and she needed to do everything she could to stay alive. The Chaos Legion spared no one.
Fortunately, the baroness made more friends than foes; one even adopted her as a Family of the Guild🌳. Even though she was well trained, she was not allowed to participate in certain battles because she was a battle mage and the only allowed mage appearances was to read the rules of combat to warriors and declare a start and end of battle.

Now faint-headed, she hit against a hard surface, lost balance and fell. It smelt like death when she looked around. Skulls, bones, and decaying flesh littered the area. She reckoned it was the land of skulls.
The sound of a rushing wind, similar to a tsunami, swept through her, almost knocking her to the ground. She pulled her sword and remained rooted to the earth. It seemed all too familiar. The air became thick with the dread of impending combat!
She took up her amulet, which the Rabbi had given her. The amulet disclosed combat rules and could call up just one summoner at a time. If she failed to do so, it would be considered a sacrilege, with fatal implications.

💀WAKA SPIRITBLADE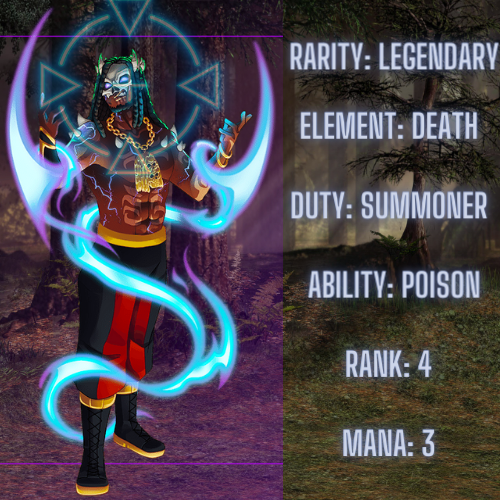 Waka Spiritblade arrived before the baroness like a tremendous whirlwind. A four-star summoner with the supernatural ability to poison.
She respectfully bows her head as she couldn't believe how powerful and huge he was. Before now, she had only heard about him back when at the REALM OF NOVICES. Another stump resounds, bringing the combat closer. Waka Spiritblade swiftly turns towards incoming challenger, takes a firm stand and summons the best of his generals to battle side by side with him.

💀LORD OF DARKNESS - FIRST LINE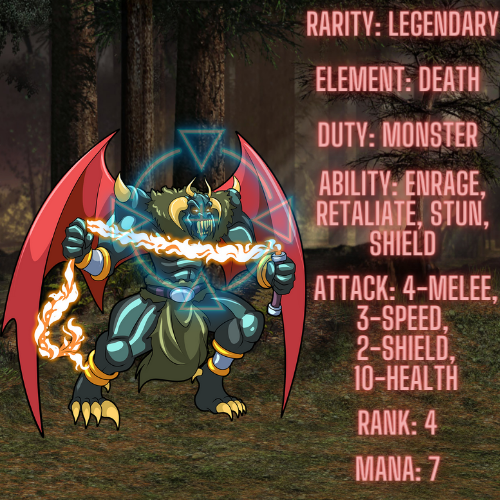 The Legendary Mortis is the most feared of his kind. He is the Lord of Combat, and he leads the team to victory with his abilities. A Dark Eternals monarch with remarkable talents. When he is injured, his enrage ability is activated. He stuns his assailant, leading them to lose control of the situation, losing a turn to strike. A 4 star⭐️⭐️⭐️⭐️ warrior with the shield ability, which shields him from melee attacks, and if hit by a melee attack monster, he retaliates immediately.

💀LIRA THE DARK - SECOND LINE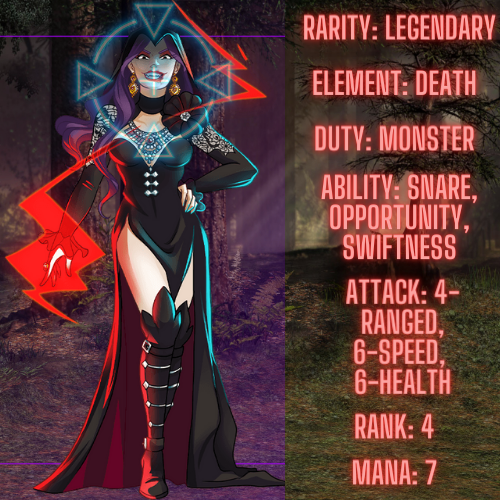 Legend has it that she is a lovely seductress. She'll strike and kill before they have a chance to react. She is the most powerful vampire in the realm, and she is dreaded by all. No one who has ever come into contact with her has survived. Many who have attempted to depose her face the full force of her anger. Her excellent opportunity ability allows her to attack from any position as she drains the life out of the enemy with lowest health. She is fast and catches flying foes, and she has never failed to hit her mark.

💀MAGI NECROSI - THIRD LINE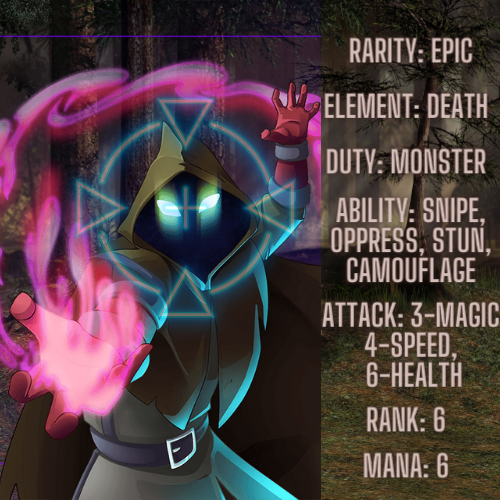 The first of his kind, he was bred for battle. A Magical 6 star⭐️⭐️⭐️⭐️⭐️⭐️ warrior with unrivaled talents who is eager to fight. With ranged, magic, or no attack, his snipe ability targets foes in front of him. His camouflage skill keeps him concealed unless he is in first position, and he oppresses adversaries with no attack. When assaulted, he stuns the opponent, rendering them immobile and causing them to miss their turn.

⚔️CHAOS AGENT - FOURTH LINE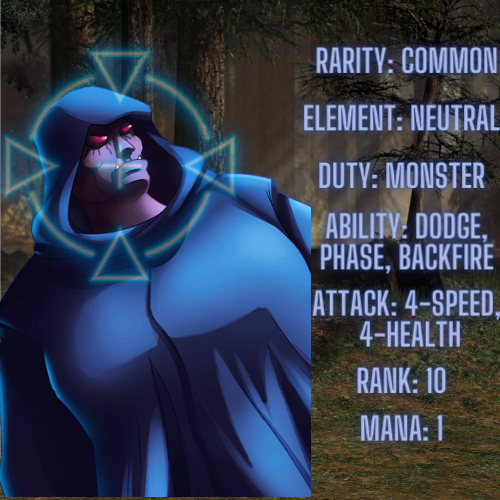 The Chaos Agent, dreaded by many for his cunning words and focused destruction, generates chaos and misdirects the opponent as a decoy to make place for their master to attack. He was summoned specifically for this purpose by Waka. A formidable Gold Foil 10 star⭐️⭐️⭐️⭐️⭐️⭐️⭐️⭐️⭐️⭐️ Agent who is well-deserving of his rank, with the ability to evade melee and ranged strikes by escaping them. If an enemy uses magic to harm him, his Phase ability causes the magic to miss him while he backfires, doing double damage to that enemy.

⚔️FURIOUS CHICKEN - FIFTH LINE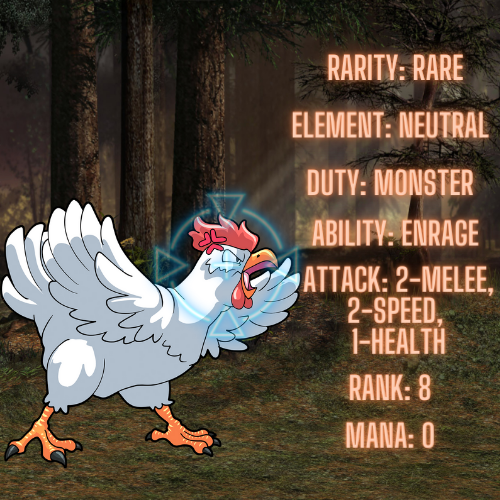 A 3 star⭐️⭐️⭐️ gold foil chicken who is tired of being oppressed. Waka is aware of his desire for vengeance and has summoned him for it. Even without magical abilities, its melee attack is lethal.

As they all appear in front of the great WAKA SPIRITBALDE, the baroness is astounded by how powerful these monsters are.
The enemy is suddenly revealed by a massive stump. The LEGIONNAIRES, a familiar kind, the most feared and respected kind in Splinterlands battle ground, with wicked monsters that spared no one. When the baroness last encountered one of them, her team of monsters were defeated and she fled. But not this time, she reasoned to herself. She was ready to join the fight and damn the consequences.
There was a great roar from the sea as the powerful water summoner enemy-KELYA FRENDUL approached for battle, accompanied by top ranked monsters, enemy-GARGOYA LION in first position, enemy-XENITH MONK in second, enemy-FURIOUS CHICKEN in third, enemy-TORRENT FIEND in fourth, the enemy-RULER OF THE SEAS in fifth and enemy-DOCTOR BLIGHT in behind.

The baron's heart skipped a beats as she ran to the middle of the battle field to declare rules of combat.

AIM TRUE: Melee and Ranged attack will not miss their target. MELEE MAYHEM: Melee attackers can hit from any position.
She yelled aloud, swallowing a large chunk of saliva and trembling her knees.
WAKA SPIRITBALDE roars and beats on his chest. Then he moves on to his monsters.
"Today, brothers, we fight for honor." We fight for the number of times our eggs have been stolen and flesh has been eaten." We fight for glory!!!
Furious Chicken scratched the ground with its sharp claws and made a plucking noise. All of his monsters let out a thunderous roar as they charged at their enemies.

⚔️ THE BATTLE ⚔️
---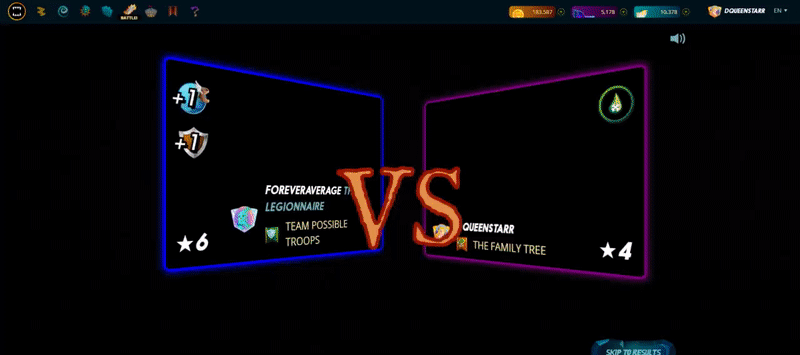 ---
⚔️ROUND 1⚔️
---
WAKA SPIRITBALDE gives his team of monsters the Poison ability. This ability attacks and removed the shield of enemies first, leaving them exposed for maximum damage to their health at start of each round.

Enemy-SEA MONSTER launches his first attack by silencing WAKAS team of monsters causing a - 1 magic effect.

LIRA THE DARK GIVES ALL TEAM MONSTERS SWITFT ABILITIES.

As the battle began, LIRA THE DARK targets the weakest link in enemies team FURIOUS CHICKEN and strikes and inflicts with poison which removes the shield.

Enemy-XENITH MONK attacks LORD OF DARKNESS, this causes a retaliation at it and Removes the shield.

Enemy-RULER OF THE SEA attacks LORD OF DARKNESS and that Enrages him, causing him to stun GARGOYA LION and the poison also takes off the shield.

MAGI NECROSI launches an attack on LORD OF THE SEA and poisons him to remove shield.

Enemy-TORRENT FIEND launches a deadly but misses the attack on LORD OF DARKNESS, in return a retaliation which takes off the shield of enemy leaving him exposed.

Enemy-DOCTOR BLIGHT attacks LORD OF DARKNESS and afflicts him with death. Immediately enemy-FURIOUS CHICKEN launches an attack but misses on LORD OF DARKNESS. In response, it gets poisons and killed immediately.
---
⚔️ROUND 2⚔️
---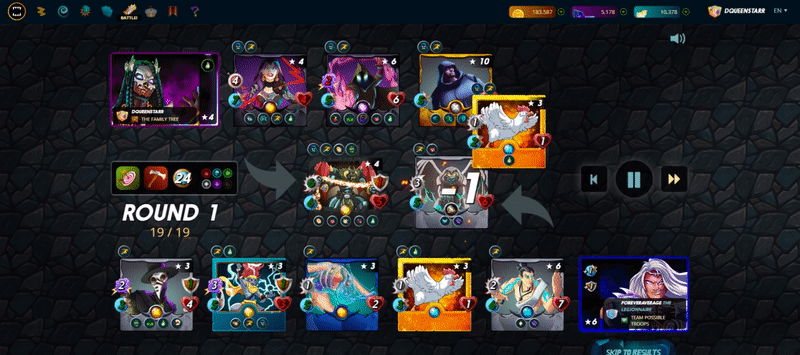 LIRA THE DARK Attacks And poisons enemy-LORD OF THE SEAS, an attack so fatal that takes off -3 of his life line, leaving him hanging to one.

Enemy-GARGOYA LION now unstuned, but before he can attack, LORD OF DARKNESS immediately and attack on him with poison, killing enemy-GARGOYA LION instantly.

Enemy-DOCTOR BLIGHT now scavenged restore his health +1, while XENITH MONK and LORD OF THE SEAS take turns to launch an attack on LORD OF DARKNESS, brining it's life line to 2.

On seeing that, MAGI NECROSI gets furious and launches a deadly attack on enemy-LORD OF THE SEA, killing him instantly.

Enemy-DOCTOR BLIGHT scavenged again restores its health, and launches a deadly attack on LORD OF DARKNESS.
---
⚔️ROUND 3-8⚔️
---
MAGI NECROSI give a loud painful roar upon seeing LORD OF DARKNESS killed and launches an attack with a stun on Enemy-XENITH MONTH.

Enemy-DOCTOR BLIGHT goes on to launch and kill LIRA OF DARKNESS, but no without a fight, she goes down like the heroine that she, poisoning her attacker.

The battle takes a drastic turn as FURIOUS CHICKEN attacks and poisons enemy-XENITH MONK leaving him with hanging on a life line, while MAGI NECROSI takes advantage of the opportunity to launch an attack and kill enemy-XENITH MONK.

Enemy-DOCTOR BLIGHT keeps scavenging and now with a health of 11. FURIOUS CHICKEN attacks and weakness enemy -TORRENT FIEND while again MAGI NECROSI take advantage of the opportunity and launches a deadly, killing it.

Fear gripped the baroness' heart seeing how fierce the battle was now, holding unto her sword and ready to join in the battle. But something within her believed WAKA SPIRITBALDE summoned these fearless monsters for a reason.

MAGI NECROSI launches an attack on Enemy-DOCTOR BLIGHT weakening its health by - 3 while and leaving a Stun.

FURIOUS CHICKEN attacks enemy-DOCTOR BLIGHT, now unstuned but before he gets the chance to attack, MAGI NECROSI swiftly attacks and Stuns him again.

FURIOUS CHICKEN again launches an attack, which unstun him, but before enemy-DOCTOR BLIGHT would get the chance to attack, MAGI NECROSI filled with rage over the death of his Top tanked team monsters, launches a deadly, - 3 and immediate death of enemy-DOCTOR BLIGHT.
---
⚔️FINAL RESULT⚔️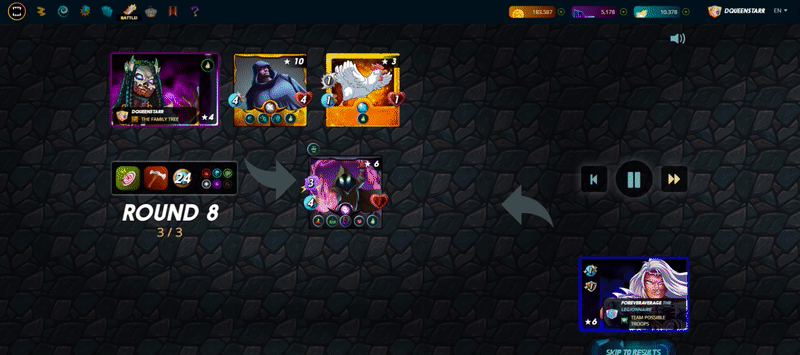 WAKA AND TEAM OF MONSTERS LET OUT A LOUD ROAR OF VICTORY. The defeat of a LEGIONNAIRE.

Just as WAKA SPIRITBLADE and the surviving squad are about to leave, the baroness steps out and takes another bow, this time lower and still shivering.
WAKA SPIRITBALDE acknowledges the bow with a nod and picks up LORD OF DARKNESS & LIRA THE DARK. At the lovely gate pool, there was optimism that they would be healed.
The baroness stood and stared at the wide hilltop as her team of monsters vanished into thin air, wondering if she'd be able to survive in this dreadful realm. Whether she did or not, she was prepared to fight to the death if necessary.
👉 CLICK ON LINK TO WATCH THIS BATTLE

DO I LIKE MY TEAM OF MONSTERS AND DID THE STRATEGY WORK?
I definitely like my team of monsters and look forward to experiencing these monsters more in battles again. WAKA SPIRITBLADE sends chills down my spine. This only demonstrates that if you play the Death splinter and at whatever the mana cap, then this team lineup is awesome.
My strategy worked very well. It was a good lineup and strategy for this battle⚔️. It is no doubt the monsters are worth collecting, decent cards, and this battle challenge has surely exposed their usefulness in battle. I Thoroughly enjoyed this battle.

😊That will be all about my battle. If you want to take part in this Splinterlands' weekly battle challenge, simply go to 👉Splinterlands Social Media Challenge! to read up more on the challenge.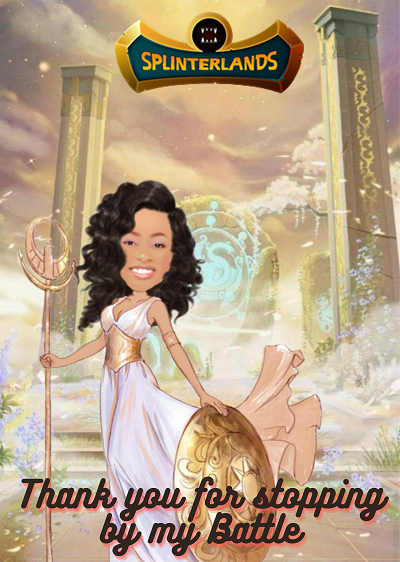 Worthy Notes:
✅All the images are taken from my in-game at WWW.SPLINTERLANDS.COM
✅Cover made in Photoshop with Image 1 , Image 2 , Image 3
✅My gratitude to @saffisara, @enginewitty and #staytenrocks for the many card gifts, Support and encouragement.
✅Click on Theterminal banner to join Hive's House of Help community.
✅Awesome PIMP Banner by Inthenow.
✅Edited Splinterlands text dividers in PS5 as provided freely by freeztag.
😊Until next Splinterlands Battle, Hive, Vibe & Be Lucky🍀

All content is mine unless otherwise Noted
queenstarr ©2022