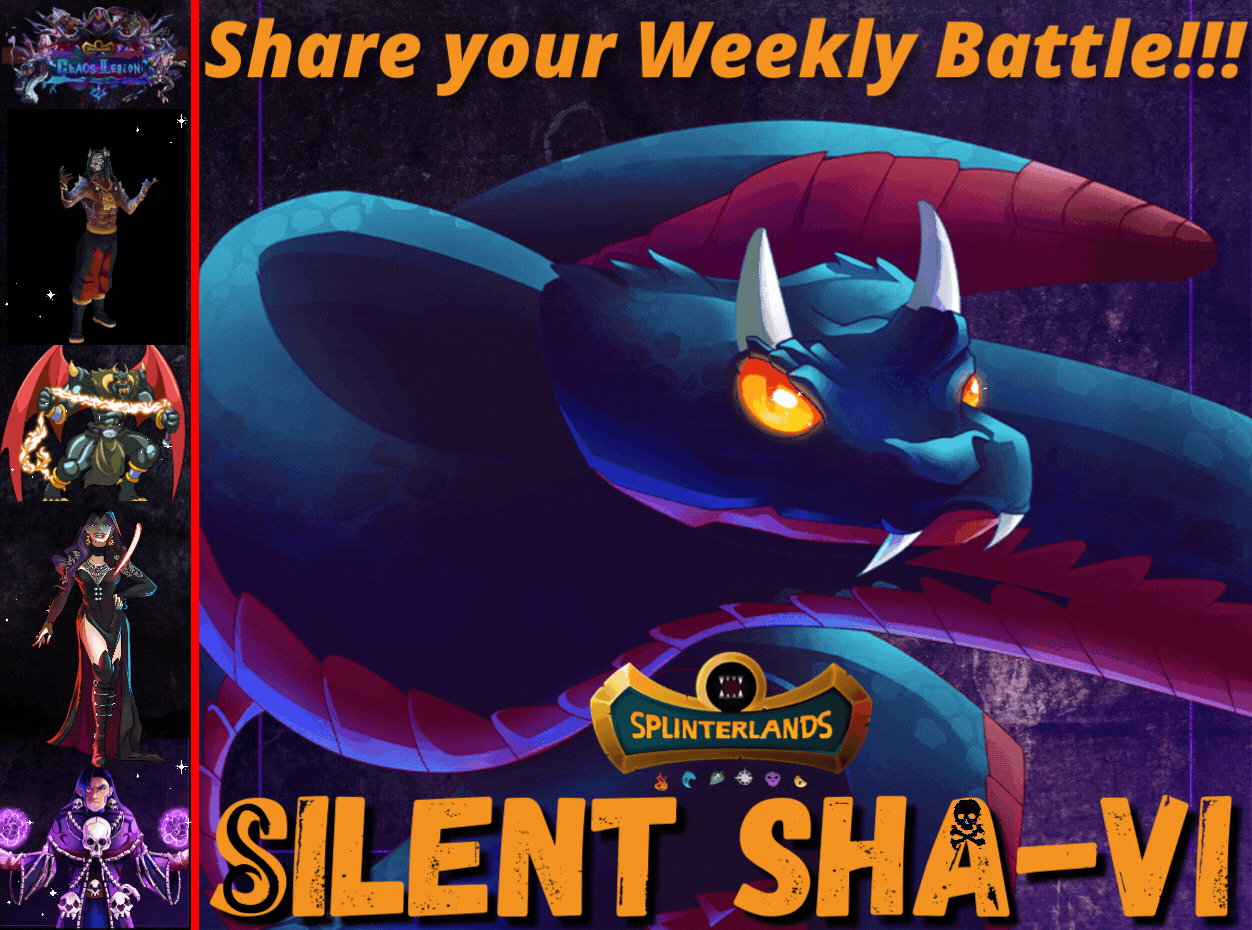 😊Hello There warriors!
Welcome to my splinter-week battle with the theme card 🐍SILENT SHA-VI🐍 of the Death Unit. The 🐍SILENT SHA-VI🐍 is an interesting card to have on deck and I'll explain why shortly. Before that, there's plenty more time left, so if you want to take part in this weeks Splinterlands battle challenge, simply go to 👉SHARE YOUR BATTLE Weekly Challenge! SILENT SHA-VI to read up the rules of challenge.

| MY THEME CARD INFORMATION:🐍SILENT SHA-VI🐍 | |
| --- | --- |
| EDITION | CHAOS |
| RARITY | COMMON |
| ELEMENT | DEATH |
| LEVEL | 8 |
| MANA COST | 5 POINT |
| ATTACK | MELEE |
| ABILITIES | LEVEL 1: SNIPE _ LEVEL 8: +CRIPPLE |
The 🐍SILENT SHA-VI🐍 is one of Splinterlands' most sort after card for it's decent mana cost in battle and also Snipe ability. Players including myself, enjoy using cards with an ability, which explains my liking for this card. This monster comes from the death element and is a common card that costs 5 mana to use in battle. It is a melee attack card, and I believe it pairs well with just about any Death splinter [Tankers especially] as we shall be seeing in this battle.
I am using a level 8 and this venomous snake has 3-melee attack, 6-speed, 0-shield and 7-health. Truth is, This Monster when compared to other monster cards to higher league players may not come as impressive at level 1 but it sure get's super awesome at level 6+, a lovely card worth having on deck. The 🐍SILENT SHA-VI🐍 at this level has decent tank which can cause great damage once engaged in a favourable position.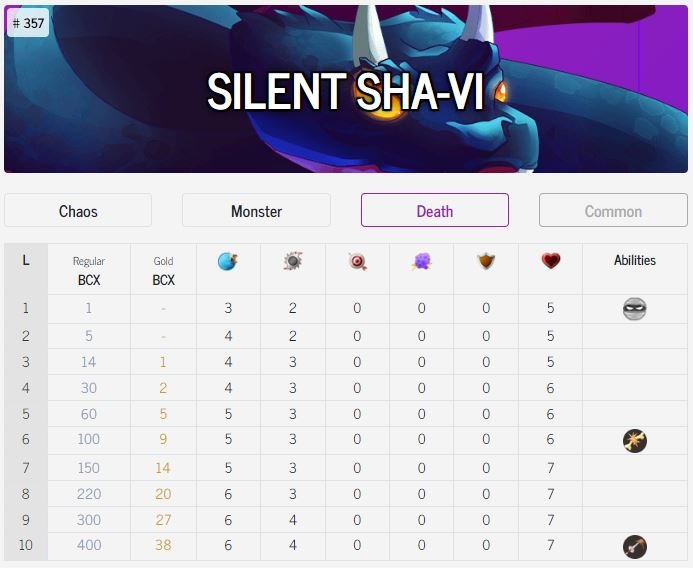 As we can see from Stats, the Regular foil 🐍SILENT SHA-VI🐍 has just 3-speed, 2-Melee attack, 0-ranged attack, 0-magic, 0-shield, 5-health, and 'SNIPE' ability at the start. Level 6-9, it gains a +2 speed, +1 Melee, +1 health point and 'CRIPLE' Ability. At level 10, it totally improves to 6-speed point, 4-melee attacks, 7-health and gains another ability, 'PIERCING'.
It becomes extremely powerful when it's 5-mana cost is considered. At this maximum Level, 🐍SILENT SHA-VI🐍 attacks can be increased further with summoners like Waka Spiritblade for extra 'POISON' ability. Imagine how much damage 🐍SILENT SHA-VI🐍 can inflict with just little mana point.
For the Market price chart 👉 🐍SILENT SHA-VI🐍 (REGUALAR FOIL AND GOLD FOIL)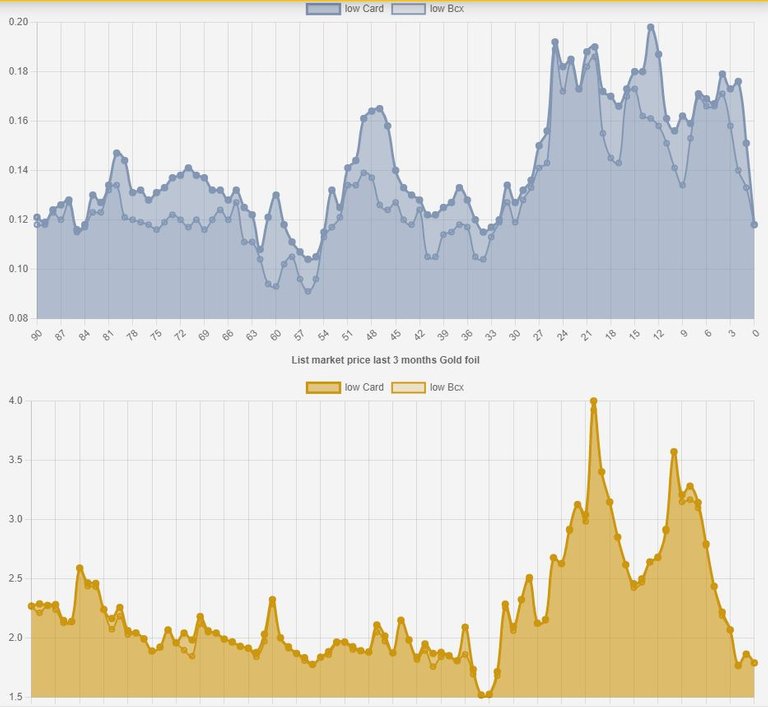 You'll see that the regular has been in demand from players, with the low price at 0.10$ and all time high at 0.20$. While for the Gold foil, this is considerably pricey to buy now with least price at 1.5$ and all time high at 4.0$. You can buy or rent this card easily in-game SPLINTERLANDS or PEAKMONSTERS. Buying the gold foil now at this prize will be the wise thing for me to do as I am now shuttling between Gold & diamond league, never know how the market turns out.
To thoroughly make good use of the 🐍SILENT SHA-VI🐍, level up card to max and also get you a gold foil😆, then battle your way up to experience it's max ability.

⚔️ THE BATTLE ⚔️
---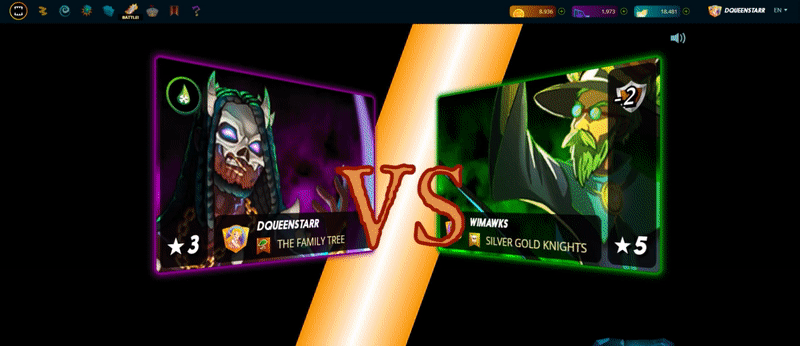 ---
| RULE SET | |
| --- | --- |
| STANDARD | MODIFICATIONS TO THE RULES AND MECHANICS |
| MANA CAPACITY | 26 |
| AVAILABLE ELEMENT | only Earth🍃, Fire🔥, Life🌬, death💀 and Dragon🐉 Unit allowed |
This was a medium mana cap battle that gave all monsters the 'KNOCKOUT' ability. Another interesting rule set was that all monsters got 'poisoned' at the end of each round. I used the Legendary WAKA SPIRITBLADE as my summoner who also gives the 'POISON' ability to all my monsters at start of battle.

⚔️ ***TEAM LINE-UP *** ⚔️
| BUFF | SUMMONER | ELEMENT | LEVEL | RARITY |
| --- | --- | --- | --- | --- |
| Poison | | Death | ⭐️⭐️⭐️ | LEGENDARY |
STRATEGY:
This card, which grants 'POISON', it's fascinating. This suggests that all enemy monsters get damaged at start of each round by poison. I summoned this all powerful WAKA SPIRITBLADE, the most excellent in my humble opinion of the death element because 🐍SILENT SHA-VI🐍, a melee attack monster peers perfectly with him. Since the ruleset poisoned us all at end of each round, I thought to then add poison to enemy monsters at start of each round. 4x times the damage.
| POSITION | CARD | ABILITY | RARITY | STATS |
| --- | --- | --- | --- | --- |
| Front-line | | Enrage, Stun, Shield | LEGENDARY | LEVEL-⭐⭐⭐, 4-MELEE, 3-SPEED, 2-SHIELD, 9-HEALTH |
STRATEGY:
LORD OF DARKNESS is the Lord of battle, and he leads the team to victory with his amazing abilities. When he is injured, his 'enrage' ability is activated. He 'stuns' his assailant, leading them to lose control of the situation, losing a turn to strike. A 4 star⭐️⭐️⭐️ warrior with the 'shield' ability, which shields him from melee attacks, and if hit by a melee attack monster, he 'retaliates' immediately. I have employed him solely for this purpose, to absorb hits.
| POSITION | CARD | ABILITY | RARITY | STATS |
| --- | --- | --- | --- | --- |
| second-line | | Snipe, Cripple | COMMON | LEVEL-⭐️⭐️⭐️⭐️⭐️⭐️⭐️⭐️, 3-MELEE, 6-SPEED, 7-HEALTH |
STRATEGY:
In second position is the theme card. Because of its high 6-speed, this 🐍SILENT SHA-VI🐍 can deal considerable damage to the opponent's rear end and will be difficult to target. It also receives the 'cripple' ability at this level, in addition to the sneak ability. This cripple ability is one of my favorites because it reduces the enemy monster's health whenever it attacks successfully. When a monster with Cripple hits an enemy, it loses one maximum health. I've put him in this position to snipe and cripple.
| POSITION | CARD | ABILITY | RARITY | STATS |
| --- | --- | --- | --- | --- |
| third-line | | Stun, Immunity | EPIC | LEVEL-⭐️⭐️⭐️⭐️⭐️, 2-MAGIC, 5-HEALTH, 2-SPEED |
STRATEGY:
Next comes the REVEALER up in third position. A new reward card with amazing abilities too. The 'stun' which cause enemies to loses their chance to strike, and the 'immunity' which keeps him protected. The rule set poisoned all monsters at end of each round, so I have placed an Immune monster in mine so that it is not affected by the poison, therefore more room for him to cause damage to enemies. The summoner WAKA SPIRITBLADE makes him the poison instead😉.
| POSITION | CARD | ABILITY | RARITY | STATS |
| --- | --- | --- | --- | --- |
| fourth-line | | Opportunity, Snare, Swiftness | LEGENDARY | LEVEL-⭐️⭐️⭐️, 3-RANGE, 6-SPEED, 6-HEALTH |
STRATEGY:
LIRA THE DARK imho is a fascinating seductress. She'll strike and kill before enemy has a chance to react. Her excellent 'opportunity' ability allows her to attack from any position as she drains the life out of the enemy with lowest health. She is 'Swift' and 'Snares' flying foes, and she has never failed to hit her target.
As you can see from my lineup, I attempted to provide a balance, focusing more on swift damage to help support the theme card. Without further ado, let us now enter the battleground.

---
⚔️ROUND 1⚔️
---
The Enemy came at me with the Earth Unit, WIZARD OF EASTWOOD as Summoner. GRUND in first position, ORC SERGEANT in second, FUNGUS FIEND in third, FURIOUS CHICKEN in fourth, SWAMP THING in fifth, and GOBLIN PSYCHIC in last position. My Enemy came ready to destroy, to be honest, i was sorta worried seeing GRUND😅.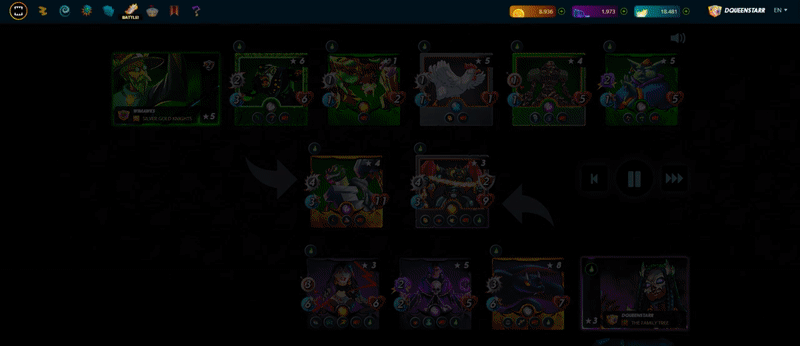 Round 1 started, WAKA SPIRITBALDE gives my monsters the Poison ability. This ability attacks and removes the shield of enemies first, leaving them exposed for maximum damage to their health at start of each round.

Enemy-WIZARD OF EASTWOOD repays the favor and removes the shield from my front line monster LORD OF DARKNESS😆.

LIRA THE DARK GIVES ALL TEAM MONSTERS SWITFTNESS ABILITY.

Enemy-SWAMP THING cast a the SLOW ability spell on all my monsters.

According to the rule set, all monsters [excluding my monster REVEALER] then get the poisoned.

According to ruleset, all monsters are given the knockout ability.

As the battle began, LIRA THE DARK targets the weakest link in enemies team FURIOUS CHICKEN and strikes, inflicts with poison which kills it immediately.

🐍SILENT SHA-VI🐍 attacks and cripples enemy-GOBLIN PSYCHIC.

The REVEALER and LORD OF DARKNESS take turns to attack enemy-GRUND reducing health to last life line, but he heals back up +3.
💧Round 1 ends with all Monsters poisoned💧
---
⚔️ROUND 2⚔️
---
Round 2 begins with enemy-FUNGUS FIEND and enemy-GOBLIN PSYCHIC both killed by the poison. My Team of monsters still standing strong and ready to attack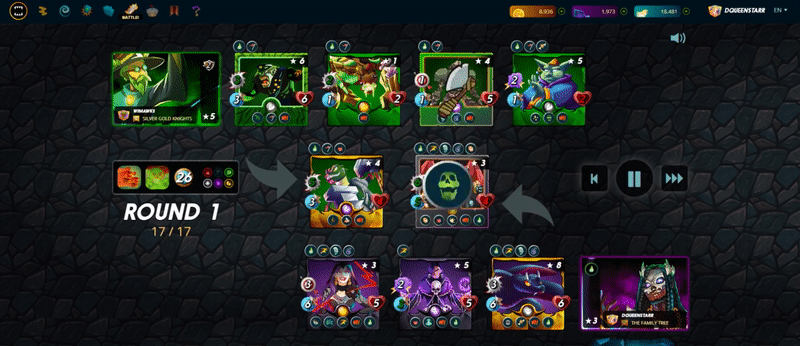 LIRA THE DARK targets the weakest link in enemies team GRUND and strikes, inflicts with poison which kills it immediately.

🐍SILENT SHA-VI🐍 also targets the last monster in enemies team SWAMP THING and strikes, inflicts with poison and cripple which kills it immediately.

The Slow spell casted by enemy-SWAMP THING is now lifted from my monsters, and they all gain back +1 speed point.

Before enemy-ORC SERGEANT gets the chance to react, LORD OF DARKNESS swoops in and strikes, -4 and enemy dies instantly.
---
⚔️FINAL RESULT⚔️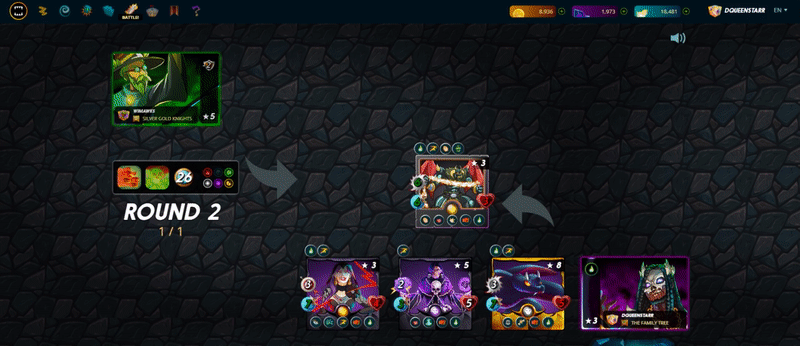 🐍SILENT SHA-VI🐍 and the whole squad lets out a thunderous shout FLAWLESS VICTORY!!!
👉 CLICK ON LINK TO THIS BATTLE: 🐍SILENT SHA-VI🐍

DO I LIKE 🐍SILENT SHA-VI🐍 AND WHAT I WOULD'VE DONE DIFFERENTLY?
TBF I do like this monster 🐍SILENT SHA-VI🐍, because even at just level 1 this monster has enough health to survive a small or medium attack, and it also possesses two melee attacks, which can help it deal with shielded monsters. When placed in favourable position or backed by supporting monsters such as in this Battle, it is able to cause great damage and last longer in battle as we saw.
I definitely look forward to experiencing it's max stats of 10 which can only be triggered i think from Diamond and Championship league. It has pretty awesome Melee, Speed and health, that's already a slam dunk. This only demonstrates that if you play the Death splinter and whatever the mana cap, then this is a card to have on deck.
The battle was exciting to watch and I will keep seeking more ways to own, engage, buy more cards and level up 🐍SILENT SHA-VI🐍 to 10.

DID MY STRATEGIES WORK?
Yes, my strategy worked very well. It was a good lineup and strategy for this battle⚔️
🐍SILENT SHA-VI🐍 is no doubt a decent card, and this battle challenge has surely exposed it's usefulness in battle.

😊That will be all about my weekly battle with 🐍SILENT SHA-VI🐍 as the themed card.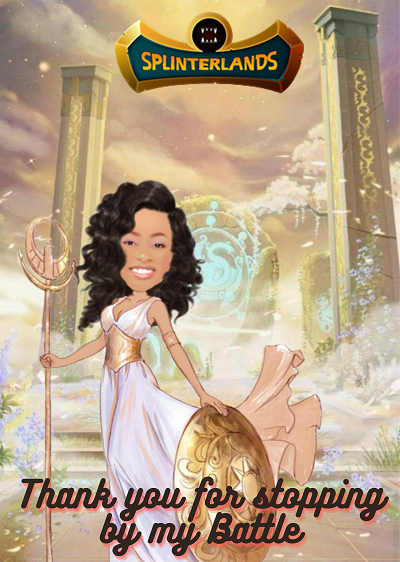 Worthy Notes:
✅All the images are taken from my in-game at WWW.SPLINTERLANDS.COM and SPLINTERLANDS OFFICIAL DISCORD SERVER
✅Cover made in Canva with background image by artist Karen_Nadine
✅My gratitude to THE PIMP HOUSE for the many gifts, guild support and encouragement.
✅Click on this Banner to join Hive's House of Help community THE TERMINAL

✅Awesome PIMP Banner by Inthenow.
✅Edited Splinterlands text dividers in PS5 as provided freely by freeztag.
😊Until next Splinterlands Battle, Hive, Vibe & Be Lucky🍀

All content is mine unless otherwise Noted
queenstarr ©2022