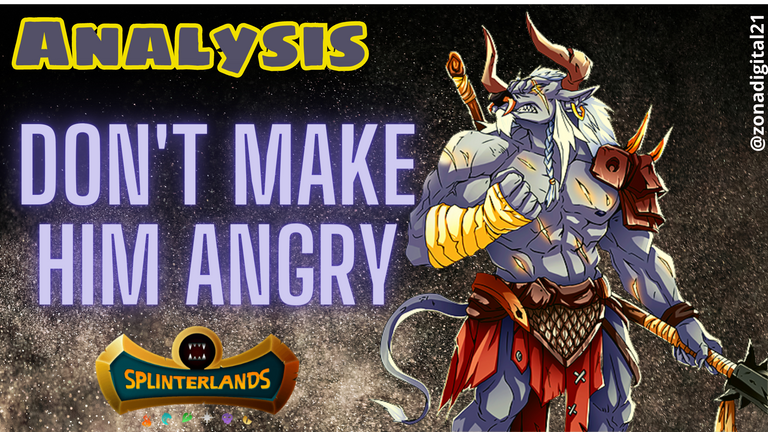 Un gran saludo a todos los guerreros activos de #Splinterlands, quiero agradecerte por entrar a leer mi post, y espero que te guste.
Hoy quiero continuar con mi serie de análisis de las nuevas cartas #Reward, si quieres ver la serie completa puedes ir a mi perfil y allí encontrarás distintas publicaciones en las que explico este tema.
Para el día de hoy y como ves en la portada, hablaremos de una carta llamada DRYBONE BARBARIAN, ponte comodo y disfruta de la lectura.
A big hello to all active #Splinterlands warriors, I want to thank you for coming in to read my post, and I hope you like it.

Today I want to continue with my series of analysis of the new #Reward cards, if you want to see the complete series you can go to my profile and there you will find different posts where I explain this topic.

For today and as you see on the cover, we will talk about a card called DRYBONE BARBARIAN, get comfortable and enjoy the reading.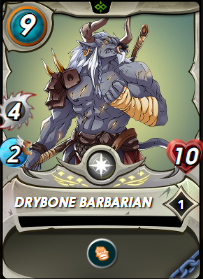 Esta es una carta del elemento vida, que lo que más resalta es la cantidad de vida que posee, y también su ataque es algo que puede ser llamativo.
Es una carta común, sé que las cartas comunes no son muy bien vistas, pero de igual forma son útiles en algunos casos y mi intención en mostrarte a detalle las estadísticas de etas cartas #reward.
This is a card of the life element, and what stands out the most is the amount of life it possesses, and also its attack is something that can be striking.

It is a common card, I know that the common cards are not very well seen, but they are still useful in some cases and my intention is to show you in detail the statistics of these cards #reward.

DRYBONE BARBARIAN tiene un total de 3 habilidades y en su nivel uno ya cuenta con una de ellas.
También podemos ver que sus estadísticas de ataque pueden subir mientras más nivel tenga dicha carta, pero a más nivel se requiere de un invocador de mayor nivel, así que tienes que pensar muy bien hasta aunque nivel llevar esta carta, pero todo queda a decisión de cada uno.
Las habilidades que tiene esta carta son:
ENFURECER
CONTRA ATACAR
NOQUEAR
A continuación te hablaré un poco de estas habilidades.
DRYBONE BARBARIAN has a total of 3 skills and at his level one he already has one of them.

We can also see that its attack stats can go up the more level this card has, but the higher the level, the higher level it requires a higher level summoner, so you have to think very well up to which level to take this card, but everything is up to each one's decision.

The abilities that this card has are:

Next I will tell you a little about these abilities.
---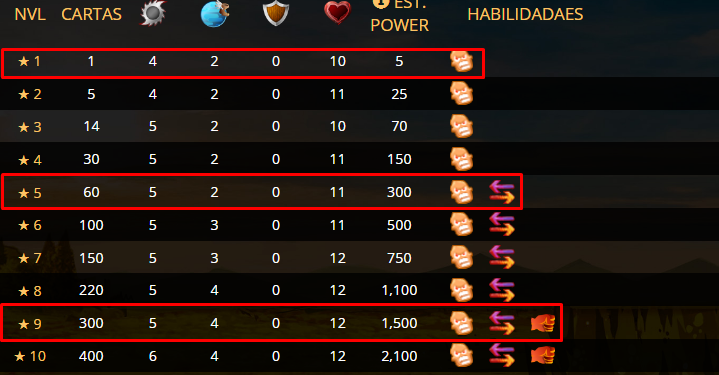 ---



Habilidad Enfurecer/Ability Enrage



La Habilidad Enfurecer es muy buena para jugar con cartas de ataque cuerpo a cuerpo.
Esta es una habilidad que la puedes encontrar también en las condiciones de batalla y si la usas tú puede beneficiarte, ya que aumenta el ataque de tus cartas.
Si buscamos una descripción de eta habilitada encontraremos lo siguiente: Ha aumentado el ataque cuerpo a cuerpo y la velocidad cuando está dañado
Como puedes ver no solo aumenta el ataque cuerpo a cuerpo, también aumenta la velocidad de nuestras cartas, cuando una de nuestras cartas con habilidad enfurecer es golpeada, sus estadísticas de ataque y velocidad aumentan.
Acá te muestro una imagen de ejemplo de una de mi batalla con eta habilidad, en ella puedes ver que los monstruos cuando son golpeados aumentan las estadísticas que he mencionado.
The Enrage ability is very good to play with melee attack cards.

This is an ability that can also be found in the battle conditions and if you use it yourself it can benefit you, as it increases the attack of your cards.

If we look for a description of eta enabled we will find the following: Has increased melee attack and speed when damaged.

As you can see not only increases the melee attack, it also increases the speed of our cards, when one of our cards with ability enrage is hit, its attack and speed stats increase.

Here I show you an example image of one of my battle with this skill, in it you can see that the monsters when they are hit increase the stats I mentioned.
---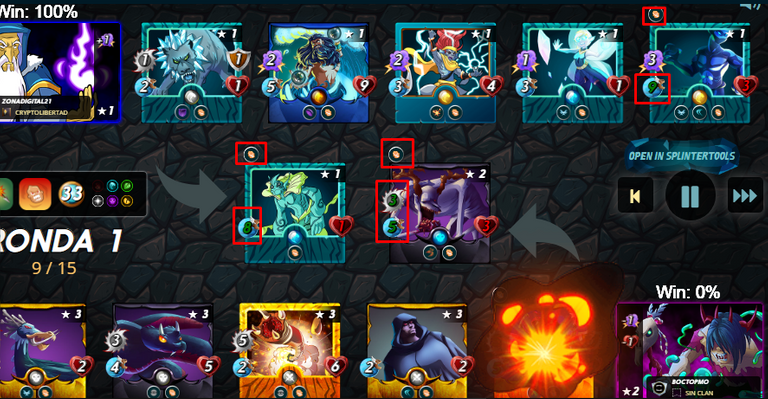 https://splinterlands.com?p=battle&id=sl_5136c480befd1ec8c807f82f3b89cb0c&ref=zonadigital21
---



Habilidad Tomar represalias/Skill Retaliate
Cuando se golpea con un ataque cuerpo a cuerpo, los monstruos con Represalia tienen la posibilidad de atacar a su atacante.
Esta habilidad no la suelo usar mucho, pero en le mazo de tierra tengo una carta con esta habilidad y hace un tiempo la usé y me parece genial.
Es una habilidad muy fácil de comprender, así que no creo que necesite de mucha explicación, según la página de Splintercards.com, en el mazo de vida hoy hay dos cartas que poseen dicha habilidad.
Para que nuestro DRYBONE BARBARIAN tenga eta habilidad tiene que estar en el nivel 5 y para ello necesitas 60 copias de la misma carta.
When hit with a melee attack, monsters with Retaliation have a chance to attack their attacker.

I don't use this ability much, but I have a card with this ability in my land deck and I used it a while ago and I think it's great.

It's a very easy to understand ability, so I don't think it needs much explanation, according to the Splintercards.com page, in the life deck today there are two cards that have this ability.

For our DRYBONE BARBARIAN to have this ability he has to be at level 5 and for that you need 60 copies of the same card.
---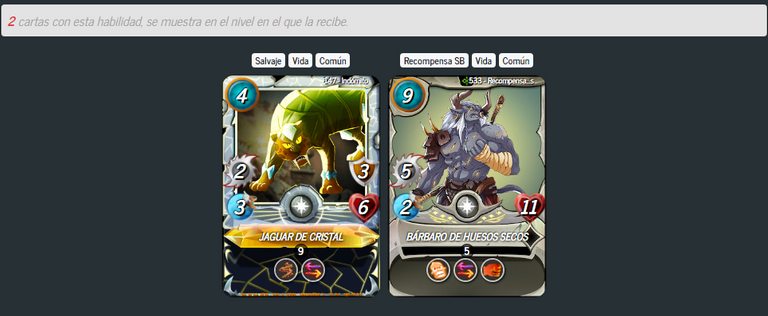 ---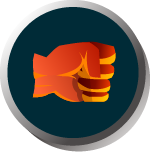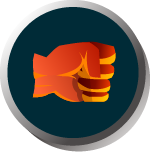 Habilidad Noquear/Skill Knockout
---
Esta es una habilidad que se tiene que combinar con la habilidad ATURDIR, pues la habilidad Noquear no explica lo siguiente:
Hace el doble de daño cuando ataca a un enemigo que está aturdido.
Entonces es bueno usar eta habilidad en compañía de una carta que tenga la habilidad aturdir, para que de esa forma pueda dar el resultado esperado.
Para tener esta habilidad necesitas 300 copias de la misma carta para poder llevar a nivel 9, pero la verdad no creo que alguno tenga en mente subir eta carta hasta al nivel, en el mazo de vida solo existen dos cartas con eta habilidad y acá te las muestro.
This is a skill that has to be combined with the ATURDIR skill, as the Knockout skill does not explain the following:

Does double damage when attacking an enemy that is stunned.

So it is good to use this ability in company of a card that has the stun ability, so that it can give the expected result.

To have this ability you need 300 copies of the same card to be able to take it to level 9, but the truth is that I don't think anyone has in mind to upgrade this card to this level, in the life deck there are only two cards with this ability and here I show them to you.
---

---

En cuanto a su diseño me parece brutal, es un minotauro que hace honor a sus habilidades, pues se ve que de verdad está ENFURECIDO y se ve que es capaz de hacer daño a todo aquel que se atreva a golpearlo.
También tiene la fuerza suficiente como para noquear a su enemigo y dar el golpe final que nos llevara a la victoria en nuestras batallas.
Recuerda que puedes dejar tu opinión en los comentarios, sería genial leerte, muchas gracias por llegar hasta el final y espero que tengas un día genial.
As for its design I think it is brutal, it is a minotaur that lives up to its abilities, because it is really FURRIED and it is capable of hurting anyone who dares to hit him.

He also has enough strength to knock out his enemy and give the final blow that will lead us to victory in our battles.

Remember you can leave your opinion in the comments, it would be great to read you, thank you very much for making it to the end and I hope you have a great day.
---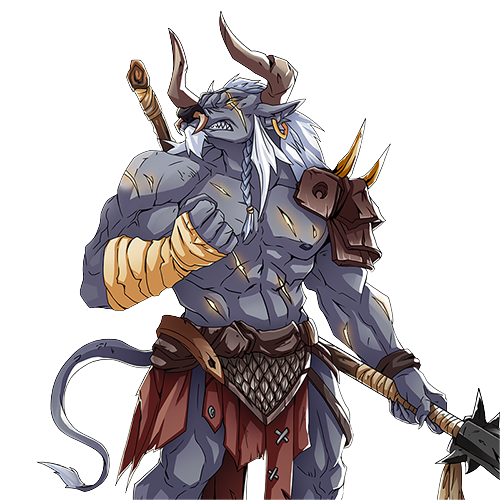 ---
---