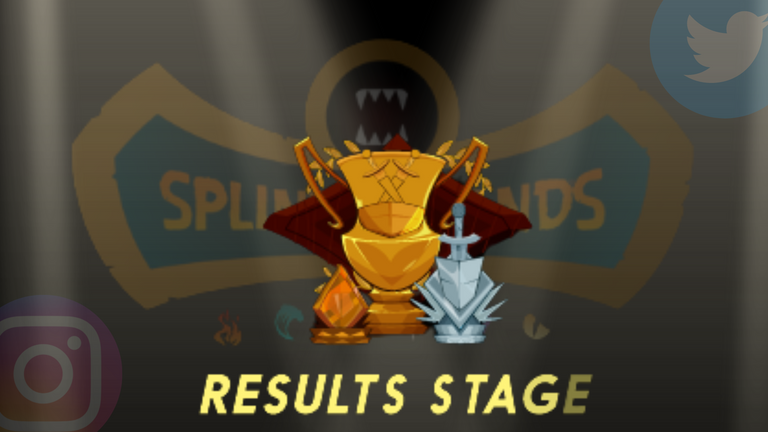 Image designed in canva with elements from the #splinterlands game.
Que tal amigo amante del juego de #splinterlands, espero esas recompensas de la temporada anterior estuviesen muy buenas. Yo ando muy feliz porque desde que comencé a memorizar las rulesets he mejorado mucho y pude mantenerme en la temporada pasada en bronce II y casi pisé plata, pero eso no fue todo, ya que tuve una de mis mejores batallas que he tenido en mucho rato y me ha servido para hacer más peso y poder ayudar más a mi clan. Así que sigue leyendo para que puedas ver esa gran batalla que tuve.
What's up #splinterlands game lover friend, I hope those rewards from last season were really good. I am very happy because since I started memorizing the rulesets I have improved a lot and I was able to stay in the last season in bronze II and almost stepped on silver, but that was not all, because I had one of my best battles I've had in a long time and it has helped me to make more weight and help my clan more. So read on so you can see that great battle I had.

Para iniciar te puedo decir que esta brawl no estuvo nada sencilla, pero primero inicie jugando y realmente preste poca atención a la jugada que me estaba haciendo hasta que me detuve a pensar y fue donde me pase a Peakmonster para ir a armar un mazo para sacarle provecho al invocador Tarsa.
Nuevamente, ingresé para participar en la última batalla que tenía pendiente por completar y al ver las reglas que medio el juego más la cantidad de mana pues me puse creativa y lo que sigue abajo es el resultado.
To start I can tell you that this brawl was not easy at all, but first I started playing and really paid little attention to the play I was doing until I stopped to think and that's where I went to Peakmonster to go to build a deck to take advantage of the summoner Tarsa.
Again, I entered to participate in the last battle I had pending to complete and when I saw the rules of the game plus the amount of mana I got creative and what follows below is the result.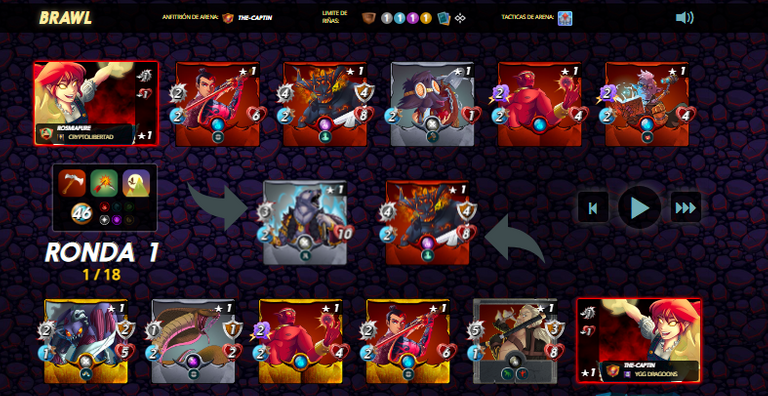 Reglas de la batalla:
| | Ataque cuerpo a cuerpo Los monstruos pueden atacar desde cualquier posición. |
| --- | --- |
| | Los Monstruos de ataque a distancia no pueden usarse en batallas. |
| --- | --- |
| | Los Monstruos Legendarios no pueden usarse en batallas. |
| --- | --- |
No te voy a mentir si, cuando vi que me dieron 46 de mana mi mente comenzó a volar y rápido comencé a pensar en mi equipo de batalla y así fue como seleccione en primera posición a Arkemis The Bear quien tiene una habilidad para colocar armadura a los monstruos aleados y a los que ya tienen armadura le aumenta a 2 puntos más. Haciendo la selección de mi primer monstruo pensé luego en Scavo Hireling para que así restaurara esa armadura que le iba a poner a mis monstruos, pero no podía colocarlo de segunda posición ya que no quise arriesgarme a perderle tan rápido así que por eso lo ven en cuarta posición
Rules of Battle
| | Melee attack Monsters can attack from any position. |
| --- | --- |
| | Ranged attack monsters cannot be used in battles. |
| --- | --- |
| | Legendary Monsters may not be used in battles. |
| --- | --- |
I'm not going to lie to you, when I saw that I got 46 mana my mind started to fly and I quickly began to think about my battle team and that's how I selected Arkemis The Bear in first position, who has an ability to put armor to the alloyed monsters and to those that already have armor it increases to 2 more points. Making the selection of my first monster I then thought of Scavo Hireling to restore the armor I was going to put on my monsters, but I couldn't put him in second position because I didn't want to risk losing him so fast so I put him in fourth position.

Ya luego pensé en Tenyii Striker por su habilidad de atacar al último monstruo de la línea de ataque del oponente y también porque considero que tiene buena vida, buen daño, buena velocidad y sumando que contaría con algo de escudo para protegerse un poco. Luego me fui por algo que tuviese un poco demás poder y es cuando escojo a Forgotten One porque lo vi muy poderoso, por tanto, lo ubico en tercer, posición para asegurarme de que dure lo suficiente en la batalla.
Para reforzar todo este poder pensé en colocar magia dentro de mi mazo por si el contrincante tenía mucho escudo ir reduciendo la vida hasta que los demás monstruos pudiesen reducir ese escudo y así eliminarlo de la batalla, entonces entran en juego Djinn Apprentice y Technowizologist que cuentan con un gran poder.
Then I thought of Tenyii Striker because of its ability to attack the last monster of the opponent's attack line and also because I consider that it has good life, good damage, good speed and adding that it would have some shield to protect itself a little. Then I went for something that had a little more power and that's when I choose Forgotten One because I saw it very powerful, therefore, I place it in third position to make sure it lasts long enough in the battle.
To reinforce all this power I thought of placing magic in my deck so that if the opponent had a lot of shield, I could reduce the life until the other monsters could reduce that shield and thus eliminate it from the battle, then Djinn Apprentice and Technowizologist come into play, which have a great power.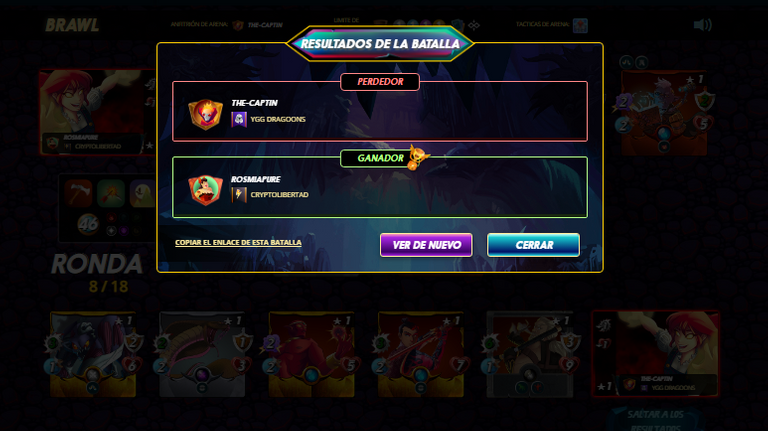 Esta batalla que gane no se la voy a atribuir a la suerte, ya que si aprecian la batalla fue realmente ruda, contando que la selección de mi contrincante y la mía fue casi similar, lo que hacía que alguno de los monstruos coincidieran aunque se encontraban en distintas posiciones y tanto el cómo yo seleccionamos monstruos fuertes.
De verdad te puedo decir que ese sabor de boca es delicioso porque voy viendo como poco a poco, voy progresando en mis batallas, mejorando la selección de mis mazos, aumentando mi necesidad de rentar ciertas cartas que me pueden servir para algunos usos, ver como sacar provecho de las rulesets que tocan y por supuesto del mana. Con seguridad te puedo decir que ir en camino a volverme una buena jugadora de #splinterlands deja un sabor muy rico.
Así que si aún no te has unido a jugar #splinterlands, pero tienes ese espíritu competitivo, no lo pienses más y dale clic aquí para que te unas con mi enlace de referido
This battle that I won I will not attribute it to luck, because if you appreciate the battle was really tough, counting that the selection of my opponent and mine was almost similar, which made some of the monsters match although they were in different positions and both he and I selected strong monsters.
I can tell you that the taste in my mouth is delicious because I am seeing how little by little, I am progressing in my battles, improving the selection of my decks, increasing my need to rent certain cards that can serve me for some uses, see how to take advantage of the rulesets that play and of course the mana. For sure I can tell you that being on my way to becoming a good #splinterlands player leaves a very good taste.
So if you haven't joined to play #splinterlands yet, but you have that competitive spirit, don't think about it anymore and hit click here to join with my referral link
---
All images shown were obtained from the #splinterlands game.
Battle rules information I got from splintercards