This weekend is when the conference championships for College Football take place. Already, things got shaken up with the Pac-12 Championship.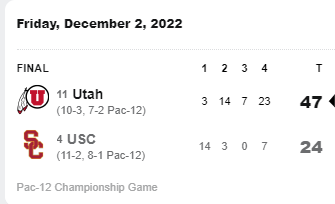 I'm not a fan of Utah, but I chuckled when they gave USC a beating a second time this season. The Utes not only kicked an overrated team down a notch but eliminated the Pac-12's chance of having a spot in the Playoff. I can't remember the last time that conference had a Playoff contender.
         The question is, which team will Utah face in Big Ten for the Rose Bowl? Will it be Ohio State or a mediocre team from the loser of the Big Ten Championship?

         Assuming everything goes the way people expect, Georgia, Michigan, and TCU should be in the Playoff. Where will Clemson stand as they are ranked lower on the ladder? I wouldn't be surprised if the committee favors Ohio State or even a two-loss Alabama over the ACC champion.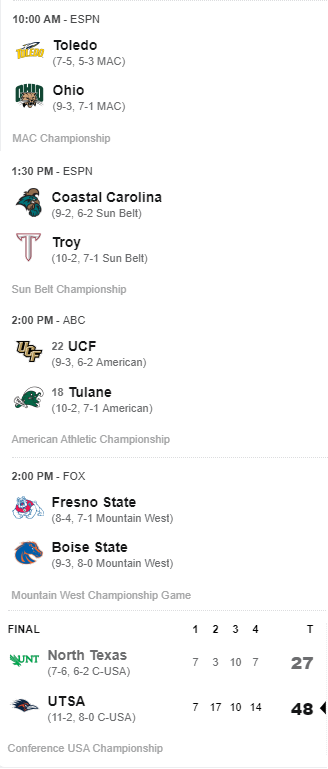 The Group of 5 isn't interesting this year. I hope to see UCF or Tulane facing off against decent P5 opponents. UCF will head off to the Big 12 next year, so a ranked finish would be a great way to finish a chapter in their program history. Other than that, none of the G5 teams are any good. Even Boise State, which dominates Mountain West, lost to mediocre teams like BYU.
College Basketball?
         I'm having a hard time talking about college basketball right now. My teams are not doing well at the start of the season. I will most likely monitor the season and make comments as it goes on. In short, Villanova seems to have a transition issue with their new coach and BYU is not good (as usual). The real fun is when conference games start.
         Stay tuned.
Posted using SportsTalkSocial