It's time for me to take a break from college sports until something interesting happens in the basketball world. ESPN has the 2022-23 season final rankings and stats ready for some time.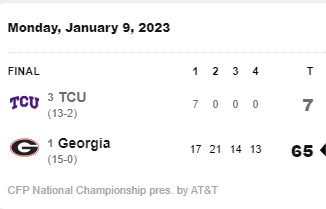 The national championship game seemed one-sided. One could say Georgia is simply in another league. To paraphrase Kirby Smart, a new dynasty is rising in NCAAF.
         As much as people want to make fun of TCU, they did an incredible job becoming the runner-up for the season. Nobody expected the Horned Frogs to go beyond the middle-of-the-pack of the Big 12 beginning of the season. Game after game, they defied expectations. Their streak finally ran out against the overwhelming Bulldogs.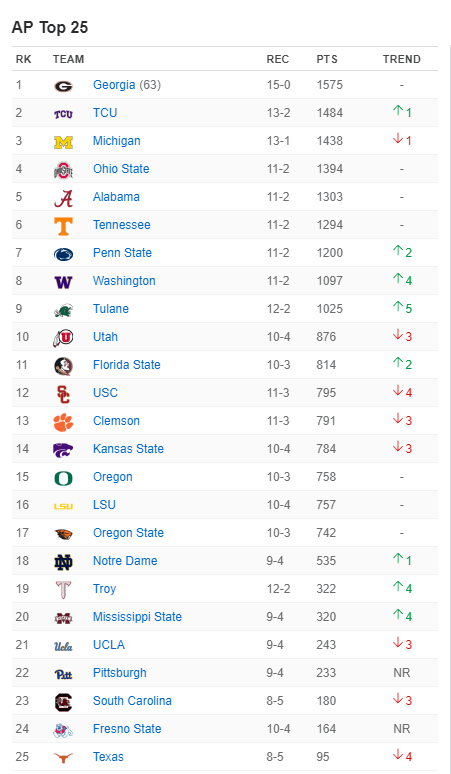 My favorite part about the final rankings is seeing Tulane in the top 10. It's not often a G5 team goes to the NY6 Bowls and defeats a well-known name like USC.
         Penn State being #7 further reinforces my opinion about the Nittany Lions. They are playoff contenders when they beat Ohio State or Michigan. In short, they are better than the critics think. There's always next year.
         I was a bit surprised to see Florida State up there. They seemed quiet all year. The only ranked team they beat was LSU. The Seminoles didn't even win the ACC, but they ended up in a better position than Clemson. I guess the same could be said about Washington ahead of Utah.
To conclude...
         The Big 12 is still somewhat relevant as they can produce playoff contenders. I'm excited to see how BYU, Houston, Cincinnati, and UCF do next season when they are part of that league. I think BYU will probably be an average team there in football next year. They will suffer humiliating defeats as a basketball team.
         College Football is starting to become "who has the most money wins." There will be a point when it's impossible to see G5 teams like Tulane make a breakthrough. In fact, it may be impossible to witness a non-SEC or non-Big Ten team win it all.
         Perhaps the College Football Playoff will expand. It will all depend on the potential revenues for all parties involved. I still hold on to the hope of a Boise State wild card splashing on the national stage.
         Until next season, take care.
Posted using SportsTalkSocial